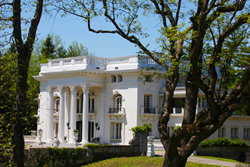 Sharon, Conn. (PRWEB) August 11, 2014
William Pitt Sotheby's International Realty today announced the record sale of the Colgate mansion, the estate of hit songwriter Paul Leka, best known for his song "Na Na Hey Hey (Kiss Him Goodbye)." The residence was originally built in 1901 for Romulus Riggs Colgate, a grandson of the founder of a soap and perfume business that later became known for its famed toothpaste brand. Last offered at $7,900,000, the sale marks the highest of the year to date in Litchfield County, Conn., according to the Connecticut Multiple Listing Service.
Washington Depot agents Kathryn Clair and Pat Lahoud handled both sides of the sale.
Architect J. William Cromwell, Jr. collaborated with Colgate on the 18th-century Italian Renaissance design, apparent in the home's stucco on stone structure and Palladian architecture, while Colgate's wife, Susan Colgate, helped to develop the interior décor. Her sense of style is found throughout, including in the Louis XIV and XV details as well as the French Empire motifs in the bedrooms.
The 12,000+/- square-foot residence has 19 rooms with nine bedrooms and five full and three half baths. Interior details include hand-carved marble fireplaces, Mott and Fish ironwork, walnut and oak wall panels and woodwork, Fontaine hardware, a butterfly staircase and Palladian windows. A reception hall that could be used as a ballroom, entered through wrought-iron gates with a family crest, features oak neo-Gothic wainscoting and hardwood flooring framed in pale green marble, as well as a series of plaster of paris figures of English noblemen, townspeople and clergy outlining a decorative lowered ceiling with gold clusters.
Offering over 106 acres of land, the property has wide carriage trails, a horse barn with six stalls, a reflecting pool, and an extensive courtyard with fountain and privets.
"One of Connecticut's most stunning homes, the Colgate Estate is also one of its most architecturally magnificent," said Clair. "The residence boasts a host of original details that remain intact and reveal its rich history."
"The most amazing workmanship and details are on display all throughout this spacious yet intimate residence," said Lahoud. "We are very excited to take part in the sale of one of the state's most historic and significant homes."
About William Pitt and Julia B. Fee Sotheby's International Realty
Founded in 1949, William Pitt and Julia B. Fee Sotheby's International Realty manages a $3.3-billion-plus portfolio with more than 1,000 sales associates in 26 brokerages spanning Connecticut, Massachusetts, and Westchester County, New York. William Pitt Sotheby's International Realty, combined with partner firm Julia B. Fee Sotheby's International Realty, is the largest Sotheby's International Realty(R) affiliate globally, the third-fastest-growing real estate company nationally, and the 23rd-largest real estate company by sales volume in the United States. A full-service real estate firm headquartered in Stamford, Connecticut, William Pitt and Julia B. Fee Sotheby's International Realty provides ancillary services including commercial services through its affiliation with Building and Land Technology, a second-generation development company based in Stamford, Connecticut; William Pitt Insurance Services; and an award-winning global relocation division. For more information, visit the website at williampitt.com.
Sotheby's International Realty's worldwide network includes more than 14,000 sales associates located in 700 offices throughout the United States and 50 other countries and territories.