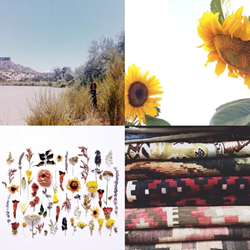 We need to attract and appeal to younger people in Santa Fe. This is an opportunity to bring talent into this community and to boost local businesses on social media. -Javier Gonzales, Mayor of Santa Fe
Santa Fe, New Mexico (PRWEB) August 11, 2014
12FPS, a boutique creative agency contracted by the City of Santa Fe's Economic Development Division to promote Santa Fe businesses this summer through social media channels, announces that it is launching a photo contest and will host two Instameets, all of which are open to the public, in August and September.
"We need to attract and appeal to younger people in Santa Fe. This is an opportunity to bring talent into this community and to boost local businesses on social media," said Mayor Javier Gonzales.
The series of photo contests will launch August 15 and include the following categories and dates; anyone can post a photo to Instagram with the hashtag #HowtoSantaFe; a guest judge will weigh in on each contest. The grand prizes include a stay at Inn and Spa at Loretto and a photoworkshop at the Santa Fe Photographic Workshops:
Art + Design: August 15-28
Movement + Action: August 29-September 11
Cars + Transport: September 12-25
Food + Drink: September 26-October 9
Outdoors—No Filter: October 10-October 23
Pets: October 24-November 6
People: August 15-November 7
An Instameet is when a group of people get together and post to Instagram on a certain subject. In this case, the subject will be Santa Fe, local businesses and events. Both meet-ups will be attended by local photographers, business representatives as well Instagrammers from around the world who travel to Santa Fe to discover the city. The content produced will generate millions of impressions and hundreds of new images and videos, that will be shared on multiple social media platform
Instameet #1:
WHO: Open to the public
WHAT: Ride the chair lift to the top, take photos and enjoy music and beer. A great opportunity to capture Santa Fe's highest peaks and expansive wilderness.
WHERE: Ski Santa Fe
WHEN: August 30, 2014; lift will be running all day, music/food in the afternoon
Guest Instagrammers:
Tyson Wheatley // http://instagram.com/twheat
Sarah Palmer // http://instagram.com/heysp
Jessica Zollman // http://instagram.com/jayzombie
Sam Horine // http://instagram.com/samhorine
Instameet #2:
WHO: Open to the public
WHAT: A showcase of Instagram work about the changing seasons in Santa Fe, by @omjsk and @erinazouz, two of Santa Fe's most popular Instagrammers. A studio lighting setup will be available for attendees to shoot portraits along with guidance from professional photographers.
WHERE: Center for Contemporary Arts Santa Fe
WHEN: September 12, 2014; Evening - time TBD
Guest Instagrammers:
Kael Rebick // http://instagram.com/punkodelish
Christoffer Collin // http://instagram.com/Wisslaren
Jonathan Taylor Sweet // http://instagram.com/jontaylorsweet
Paul Tellefsen // http://instagram.com/technopaul
"We have already seen over three hundred thousand impressions generated by #HowtoSantaFe and anticipate the campaign will continue to grow," said 12FPS Director Adam Shaening-Pokrasso. "This Instameet will be a great opportunity to put a lot of fresh content about Santa Fe into the social media spheres."
12FPS announced in June a call for business participation in Santa Fe, inviting applicants to participate in a program to support the local economy by posting images and other original content on social media channels with the hashtag #HowtoSantaFe.
If you have questions or would like to learn more about participating please contact #HowToSantaFe leads you can email howtosantafe(at)12fps(dot)com.
Adam Shaening-Pokrasso
adam(at)12fps(dot)com
415.948.5936
OR
Brittny Dayes
brittny(at)12fps(dot)com
For media inquiries, please contact
Jennifer Hobson-Hinsley
505 603 8643
jennifer(at)jlhmedia(dot)com
###
ABOUT #HowToSantaFe: #HowToSantaFe is a project lead by 12FPS and in collaboration with Anagr.am and JLH Media. Funding provided by Santa Fe Economic Development Department with support from Mayor Javier Gonzales.
ABOUT 12FPS: 12FPS is a creative agency with offices in San Francisco and Santa Fe. Its emphasis on cutting edge video production, motion design, and social media strategy provides a competitive edge in the southwest market. 12FPS has been instrumental in developing content and marketing strategies for clients such as Google, Adobe and other national brands. Its work has contributed to the launch of startups such as Lytro Camera and RedBeacon, been featured at Sundance Film Festival, and can be found on interactive displays at BestBuy and Target. 12FPS also brings a reputation in educational content with two published books by Peachpit Press and video training content used at Stanford University, Asian Art Museum, MIT Technology Review and in Home Depot stores across the country.