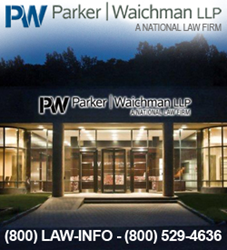 Port Washington, New York (PRWEB) August 12, 2014
Parker Waichman LLP, a personal injury law firm who has spent over a decade fighting for the rights of 9/11 victims and their families, notes that the IRS has updated its public guidance so that more World Trade Center (WTC) rescue workers are aware of their entitled tax benefits. According to 9/11 Health Watch, the cover sheet for Publication 3920 has been modified to inform filers that disability income resulting from terrorist attacks is not taxable. Under a 2001 law, WTC survivors and families of those who died as a result of 9/11-related injuries may seek a refund for up to three years of taxes paid or $10,000, whichever amount is larger. If an employer pays death benefits to the family of an individual who died of injuries related to 9/11, that amount also may not be taxed.
According to Parker Waichman LLP, these tax benefits should have been made known to 9/11 victims much sooner. The firm has continually fought for the rights of WTC survivors and their families.
In its update, the IRS states that disability income "for injuries incurred as a direct result of a terrorist attack directed against the United States (or its allies)...are not included in income," the New York Daily News reported on August 8th. The update was prompted by Senator Kirsten Gillibrand, who brought attention to the issue several months ago. But since the changes were slow to come about, she contacted IRS Director John Koskinen to urge for a more immediate change, according to a Daily News article published July 27th. "Simply put, our 9/11 heroes must get the tax benefits they deserve this year. I appreciate the commissioner's follow through on our conversation, this is an important leap forward," said Gillibrand.
If you or a loved one believe you may be eligible for compensation under the Zadroga Act and would like assistance with your claim, please visit Parker Waichman LLP's Zadroga Act claims page at yourlawyer.com or call 1-800-LAW-INFO (1-800-529-4636).