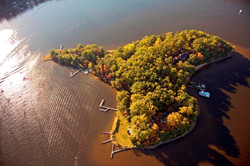 Crownsville, MD (PRWEB) August 13, 2014
In the waters of Round Bay off the Crownsville shore north of Annapolis, 16-acre St. Helena Island hides a 6,567-square-foot Federal-style mansion, cylindrical brick water tower topped by an observation office, and a guest cottage. The property, covering 6.47 acres including gardens and piers, is for sale for $3.95 million with The Creig Northrop Team of Long & Foster Real Estate.
"In addition to a historic estate, St. Helena Island offers a colorful past," said Stefan Holtz, listing agent with The Creig Northrop Team of Long & Foster Real Estate. "Sanctuary to Native Americans, a swanky 1950s' island club or even a proposed island for the criminally insane, St. Helena Island has meant many things to many people over the centuries. It remains a sanctuary today, however, with an impressive estate."
Baltimore-native Paul Burnett built the Federal-style mansion on St. Helena Island from 1929 to 1932, modeling it after Homewood House on the current Johns Hopkins University campus in Baltimore. Homewood House was built in 1801 by Declaration of Independence-signer Charles Carroll.
The history of St. Helena Island, however, goes back further than the 20th century. Native Americans used the island to hide from raiding Susquehannocks and left pottery shards, stone chips, and grooved axes. In the summer of 1895, the Chesapeake Fishing Club spent time on the island, according to The Washington Post.
Half a century later, beer distributor Eugene Raney of Kensington, Md., bought the island after Burnett died in 1944. Raney helped turn St. Helena Island into an island club with a restaurant, casino, and slot machines, a destination frequented by members of Congress and other prominent figures. Police raided St. Helena Island and seized the slot machines in 1951.
Also in the 1950s, Anne Arundel County Manager Edward Lonergan proposed an institution for the criminally insane on St. Helena Island, "a sort of Alcatraz Island of Maryland," he said. Instead, the island was divided and Raney sold the mansion to Judge Stedman Prescott Jr. of Maryland's Court of Appeals.
Prescott nearly lost the mansion in 1961 when malfunctioning electrical equipment started a fire. Nearly 100 firemen dispatched on private boats from Herald Harbor, Md. however, brought the fire under control. Through the following decades, owners have preserved and upgraded the estate.
The St. Helena Island mansion today, made of brick with a copper roof and columned entry porch, features a rotunda leading to four bedrooms and bathrooms, one half-bath, dining room, sitting room, library with two built-in safes, workshop, and recreation, storage and utility rooms. Among the mansion's distinctions are four large fireplaces, wood and marble floors, crown molding, antique chandeliers, and built-in shelves and cabinets.
The kitchen, the largest room in the mansion, features an island and stainless-steel commercial appliances, as well as window seats and breakfast area with a woodstove. Likewise, the master suite features a window seat in the marble bathroom with mahogany vanities and a steam shower. The suite holds an antique Belgian armoire in addition to a dressing room with two built-in armoires and three closets.
On the high northern point of the estate stands the water tower, converted to a circular office that tops a spiral staircase 100 feet above sea level. The office offers a 360-degree panoramic view of the bay. On the west side of the property sits the one-bedroom guest cottage, a renovated log cabin with a screened-in porch, original brick fireplace, updated kitchen, and storage loft.
A mainland parcel a half-mile across the bay serves St. Helena Island with parking, piers, and a boat ramp. A five-minute launch ride leads to the island, which offers a circular stone pathway, irrigated lawns, a gazebo and statues, water fountains, and benches throughout the grounds.
The Creig Northrop Team of Long & Foster Real Estate is the #1 real estate team in Maryland.* They represent buyers and sellers of residential real estate in the Baltimore and Washington Metropolitan regions with offices in Annapolis, Clarksville, Sykesville, Rockville, and Lutherville-Timonium, Md. President Creig Northrop has more than 20 years of experience in real estate and leads a team of more than 60 full-time real estate agents. Long & Foster Real Estate is the largest independent residential real estate company in the United States and the #1 seller of luxury homes in the Mid-Atlantic region.** (http://www.northropteam.com)
*Including all brokerages by volume according to the Wall Street Journal & REAL Trends for 2010, 2011, 2012 and 2013
**Luxury Portfolio International and Christie's International Real Estate