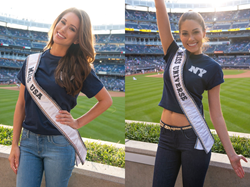 (PRWEB) August 13, 2014
Miss Universe, Gabriela Isler of Venezuela and Miss USA, Nia Sanchez, both wore Robin's Jean at the New York Yankees game against the Detroit Tigers on August 5, 2014 at Yankee Stadium. Isler paired her Yankees t-shirt with Robin's perfect-fitting "Cassie" style in Raw Blue and the newly crowned Sanchez opted for the chic "Jane" style in Jail Blue.
Both crown-holders are big fans of Robin's Jean and love to wear the brand. They are also great humanitarians, raising awareness for their children's causes and charitable organizations around the world.
Robin's Jean features a unique collection of jeans, jackets, tops, hats and belts for men and women designed by Robin Chretien. Represented by the gold wings logo, Robin's Jean captures Robin's childhood dream of freedom and flight. Robin arrived in Los Angeles in 1996 and by 2005, he decided to incorporate his passions for designing clothes, riding motorcycles and vintage cars with his fascination of Native American Indians to create his own line, Robin's Jean.
Robin's Jean is Made in the USA and there are currently five Robin's Jean Flagship store locations; Beverly Hills, CA; Soho, NY; Laguna Beach, CA; Ibiza, Spain, and as of March 2014 - Garden State Plaza in Paramus, New Jersey with more to come!