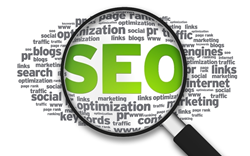 SEO is one of the most affordable and surefire ways for real estate agents to increase website traffic.
Toronto (PRWEB) August 13, 2014
WebsiteBox, a technology startup that provides real estate professionals a do-it-all website for a one-time fee of $99, introduces a new SEO app to its do-it-all offering. The SEO Web App provides real estate professionals with a fundamental component of a marketing strategy – the tools to drive more traffic to their site.
Search Engine Journal found that 93 percent of online experiences begin with a search engine, proving that search engine optimization is imperative for a business to succeed. To trigger more organic traffic to their websites, real estate agents can use the WebsiteBox SEO Web app to identify top keyword suggestions. It also helps agents understand how their websites rank against competing websites.
With this app, REALTORS® have access to custom reports from the WebsiteBox portal, which unlock more data than Google Analytics, giving agents the opportunity to fine tune their sites by diving deeper into site statistics like traffic peaks, the amount of time visitors spend on their site, and most viewed pages.
WebsiteBox's SEO Web app also equips agents with detailed demographic information. Not only are they able to uncover who their website visitors are, but they can also identify geographic and online location of site visitors, providing a greater understanding of the impact of their online marketing efforts.
"When it comes to understanding SEO practices, many REALTORS don't know where to start. The website needs to have more than just pretty pictures," said WebsiteBox CEO Peyman Aleagha. "The SEO app is an additional tool we wanted to provide our clients because SEO is one of the most affordable and sure fire ways to increase website traffic. The app provides real estate agents a starting point with SEO by identifying issues and solutions that may be preventing their website from being picked up by search engines."
WebsiteBox's SEO Web app is just one of the powerful tools included in WebsiteBox's service. For a one-time fee of $99, WebsiteBox provides REALTORS with a fully customizable and feature-rich website that makes improving online presence easy and effective.
To find out more about the WebsiteBox SEO app, visit WebsiteBox.com, email chad(dot)bhalla(at)websitebox(dot)com, or phone 1-866-857-1657 x.1113.
About WebsiteBox
Launched in January, 2013 by Internet entrepreneur and real estate marketing expert Peyman Aleagha, WebsiteBox is a Toronto-based startup offering feature-rich, mobile-friendly real estate websites and tools for agents, teams and offices at a one-time, $99 price – the lowest in the market. WebsiteBox is quickly gaining prominence in both the real estate and entrepreneurial markets. Less than six months after launching as a real estate technology startup, WebsiteBox™ was named to HousingWire Magazine's inaugural RETech:50 list of top real estate technology firms for 2013.