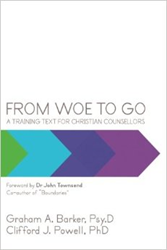 This book is for those who seek to enhance their skills and want the presence of Christ in the counseling process.
Sydney, Australia (PRWEB) August 12, 2014
When people have relationship, financial or social problems to work out, friends or family will often suggest Christian counseling. But what exactly does that mean? How does it differ from secular counseling?
Graham Barker and Clifford Powell's new book, From Woe to Go!, focuses on the vocation of counseling conducted within an evangelical Christian worldview, combining sound psychological practice with Christian principles. It is a training text wherein Christian counselors can find the distinctions that can set their practice apart from others in the profession.
"This guide seeks to integrate a comprehensive counseling model for Christian counselors, a detailed skills-training program and an extensive incorporation of spiritual resources," says Barker.
An inclusive training tool, From Woe to Go! outlines a three-stage model for Christian counselors and professionals who want to integrate their faith with their professional work.
"This book is for those who seek to enhance their skills and want the presence of Christ in the counseling process," Powell says.
Barker and Powell bring more than 50 years of combined clinical experience and graduate counselor training to this groundbreaking guide, incorporating sound theory, practical skills and unique spiritual resources available to followers of Jesus seeking to minister in the counseling arena.
From Woe to Go!
By Graham Barker and Clifford Powell
356 pages
ISBN: 9781452512686
Available at http://www.amazon.com and http://www.barnesandnoble.com.
About the author
Graham Barker is a clinical psychologist (Psy.D from George Fox University) with additional qualifications in Theology, education and counseling. He is a former head of the counseling department of the Graduate School of Counseling at the Wesley Institute in Sydney Australia. His current focus is on clinical supervision and his ministry as a training consultant for Youth For Christ International.
Clifford Powell is the senior clinical psychologist at The Mind Space in Sydney, Australia. Before completing his PhD (University of Denver-Colorado), he was a youth worker and school counselor. He has over 30 years of experience in private practice, including 20 years teaching at the Wesley Institute Graduate School of Counseling in Sydney.