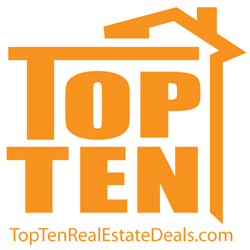 Pompano Beach, FL (PRWEB) August 12, 2014
Recent important, interesting and unusual real estate news stories from the U.S. and world media.
"Florida Home Prices Back To Peak In 2019"
According to a new report from Zillow, Florida home prices peaked in 2006 and hit bottom in 2011. The real estate website analysis states that Florida home prices are currently 36 percent below the peak levels and predicts prices will return to their 2006 peak in 2019. Zillow believes that Florida real estate will perform better than most of the United States.
"Top 10 Surging U.S. Housing Markets"
Realtor.com selects the ten U.S. areas where they expect a strong housing market surge. From Reno, Nevada to Albany, New York and Washington D.C.
"Sweet Domino Sugar Sign Coming Down"
The forty-foot Domino Sugar sign at their former Brooklyn factory that has been seen by millions of New Yorkers and visitors since the 1920s is coming down as development progresses on a new housing development. The plant closed in 2004. The sign will be refurbished and moved to a new location at the project.
"America's Top 10 Counties"
According to the real estate website Movoto, the #1 county in the United States is Loudoun in Virginia. Rankings are based on factors such as unemployment rates and housing expenses. Loudoun is a suburb of Washington D.C. and has had the highest county median income since 2007. Virginia also has the #3 county.
"New York's Most Expensive Building"
15 Central Park West is one of New York's most expensive and historic buildings. It was the first building in New York after The Depression that was constructed for rich people and is still home to the city's wealthy. Units sell at over $6,000 per square foot and rent for $18,000 to $40,000. Famous residents include Alex Rodriquez, Mark Wahlburg, Sting and many of the country's top financial CEOs.
"Michael Jackson's Neverland Ranch For Sale"
It appears that Michael Jackson's Neverland Ranch is going on the market for about $60 million. Jackson lived at the ranch until 2004 when he sold it to avoid foreclosure. The estate includes 22 buildings but most of the amusement attractions including the Ferris wheel were removed by his children and replaced with a Zen garden. Jackson died in 2009.
"The New South Florida Condo Boom"
Over 10,000 new condos are already sold in South Florida since the market began to recover in 2011. According to "The Real Deal," at least 23 new condo buildings have already sold out and 25 more are at least 90 percent sold out. Today's buyers are usually required to make a 50 percent down payment, compared to just 10 percent during the previous Florida condo boom.
"National Home Prices Increase 7.5%"
National home prices increased 1 percent in June, up 7.5 percent since June 2013. Although home prices have been on a steady rise since 2011, they are still over 25 percent lower than their peak in 2005-06 for Nevada, Florida, Arizona and Rhode Island.
"Florida Celebrity Homes"
Other than California and New York, Florida is home to more celebrities than any other state. Celine Dion, Donald Trump and Rush Limbaugh are just a few of the dozens of celebrities who have homes in Florida.
"Trump's Atlantic City Boarding House Problem Sold at Auction"
Back in the days when everyone thought Atlantic City would be a gold mine, Donald Trump had to build his casino around Vera Coking's boarding house. Mrs Coking turned down millions of Trump money and a free Trump condo. Things didn't work out so well for either Mrs Coking or Mr Trump.
"Miami Home Prices Increase 13.2%"
A total of 60 new condo towers are either under construction or planned for the downtown Miami area. According to Standard & Poors Case Schiller Index, Miami home prices are 13.2 percent higher than 2013.
"Top 10 Expensive U.S. Homes"
TV reality's "Million Dollar Listing" agent Ryan Serhant has the most expensive home for sale in the United States at $118 million. "Curbed" has the scoop on America's top 10 real estate listings.
"Celebrities Sell Their Homes To Celebrities"
Celebrities frequently sell their homes to other celebrities. In 2011, Ellen DeGeneres bought Brad Pitt's Malibu beach home for $12 million. She sold it just a year later to Ryan Seacrest for $37.5 million. Christina Aguilera bought a Beverly Hills estate from Ozzy Osbourne in 2007. Jessica Simpson bought another Osbourne home, Adam Sandler bought his house from Goldie Hawn and Kurt Russell, and Salma Hayek once bought one of Kelsey Grammer's homes.
"New York's Tallest Towers"
One World Trade Center is the champion. The Empire State Building is in second place and the Bank of America Tower in third place. "The Real Deal" has a look at New York's tallest skyscrapers.
See all these stories and much more hot home news at TopTenRealEstateDeals.