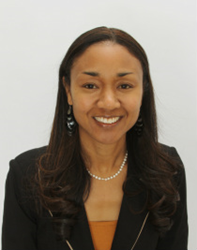 As excited as I am about the technology, I am most excited about our personalized approach to learning in-person and virtually. Scholars can excel more with opportunities for enrichment, while learning at a pace that works best for them.
New Orleans, LA (PRWEB) August 12, 2014
Connections Education, Thurgood Marshall College Fund (TMCF), and Southern University at New Orleans (SUNO) are pleased to announce that TMCF Collegiate Academy @ SUNO (TMCF@SUNO), the unique new addition to the New Orleans public education scene, has named New Orleans educator Angela Kinlaw principal.
"I look forward to joining TMCF@SUNO's future team of certified teachers, administrators, and support staff in delivering the academy's blended, college preparatory program to our scholars," said Angela Kinlaw, principal of TMCF@SUNO, who believes in referring to all students as scholars. "We have a daily opportunity to speak into existence not simply who we think they can be, but who we believe they already are," she said.
TMCF@SUNO students will be provided with a laptop and other technology tools; allowing them to work anywhere within the academy as well as beyond, 24/7. The academy will open as a middle school serving grades 6-8 in the 2015-2016 school year and will add one high school grade per year starting in 2016.
"As excited as I am about the technology, I am most excited about our personalized approach to learning in-person and virtually," said Kinlaw. "Scholars can excel more with opportunities for enrichment, while learning at a pace that works best for them."
Kinlaw served as ninth grade principal at John McDonogh High School in New Orleans this past school year. Her previous education experience includes principal positions in San Diego and St. Louis. She earned a Master of Education (MEd) in educational leadership and administration from San Diego State University-California State University and an MEd in curriculum and instruction from University of San Diego.
TMCF@SUNO will offer a state-of-the-art physical campus where a dedicated in-person staff—including Principal Kinlaw, a guidance counselor, personal trainer, and highly qualified Louisiana-certified teachers—will interact with students on-site, in addition to licensed virtual teachers. Campus-based "Success Coaches" will also help guide students through the school's comprehensive curriculum which includes AP courses, foreign languages, core academics and more. Among the engaging electives offered will be Juilliard eLearning, online music courses developed exclusively with the famed conservatory. Additionally, students will experience hands-on, project-based learning.
"Angela's experience, passion for education, and vision for re-imagining middle and high school to better serve students will be instrumental to the academy's success," said Mickey Revenaugh, Executive Vice President of Connections Education. "We are thrilled to have Angela at the helm of TMCF@SUNO."
The academy is authorized by the Orleans Parish School Board and governed by a local Board of Directors. Its curriculum and other services are provided through contract by Connections Education, a leading provider of high-quality, highly accountable online and blended learning accredited by AdvancED. As the academy's national non-profit partner, Thurgood Marshall College Fund will offer high-achieving academy students the opportunity to receive scholarships to attend its public Historically Black College and University (HBCU) member schools.
"TMCF@SUNO will provide its students with the learning environment necessary to ensure success in college and beyond through an innovative and individualized guided early college program," said Juontonio K. Pinckney, Vice President and Superintendent of TMCF's K-12 Initiatives. "We are excited to have an extraordinary instructional leader like Angela to lead that charge."
Added Victor Ukpolo, Ph.D., Chancellor of SUNO, "The academy will offer students a high-quality education, access to college level courses at SUNO, and a technology-enhanced education that aligns to the needs of our global society—all without leaving New Orleans."
For more information, visit http://www.TMCFcollegiateacademy.com.
# # #
About Connections Education
Connections Education is a leading provider of high-quality, highly accountable virtual education solutions for students in grades K–12. Since 2001, the company's Connections Academy division has delivered individualized learning to students through virtual public schools. Among the schools supported by Connections in the upcoming 2014–15 school year are 35 Connections Academy virtual (online) public schools and Nexus Academy blended schools that operate in 25 states and expect to serve more than 45,000 students from across the U.S. A private online academy, International Connections Academy, serves students worldwide. The Connections Learning by Pearson division meets the needs of schools, school districts, and other institutions looking to develop and enhance their online learning programs. Connections Learning by Pearson delivers a full range of targeted digital learning solutions to the K–12 education community including online courses, a program for homebound students, a digital learning platform, and more. Connections Education is committed to expanding quality education through technology and helping students achieve both academic and personal success. For more information, call 800–382–6010 or visit http://www.ConnectionsEducation.com. Connections Education is part of the global learning company Pearson (NYSE:PSO).
About Thurgood Marshall College Fund
Thurgood Marshall College Fund (TMCF) is named for the U.S. Supreme Court's first African-American Justice. Established in 1987, TMCF supports and represents nearly 300,000 students attending its 47 member-schools that include public Historically Black Colleges and Universities (HBCUs), medical schools and law schools. TMCF helps students with a clear intention and the motivation to succeed and acquire a high-quality college education at an affordable cost. Through its scholarships and programs, TMCF plays a key role in preparing the leaders of tomorrow. TMCF is a 501(c) (3) tax-exempt organization and for more information about TMCF and its initiatives, visit http://www.ThurgoodMarshallCollegeFund.org.
About Southern University at New Orleans
Southern University at New Orleans, founded in 1956, is a four-year public institution categorized as an SREB Four-Year 5 institution, a Carnegie Master's College and University I, and as a SACSCOC Level III institution. As an accredited liberal arts teaching institution and a member of the Southern University System, SUNO is known for its highly engaged faculty and personal academic support. The University offers a wide range of baccalaureate programs and is committed to graduate education through the master's degree, offering graduate programs to meet regional and statewide needs. For information, please visit the University's Web site at http://www.SUNO.edu.
Media Contact:
LaWanda Stone
Connections Education
443-873-1824
lstone(at)connectionseducation(dot)com