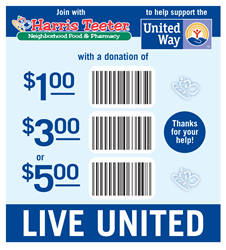 Matthews, N.C. (PRWEB) August 13, 2014
Today, Harris Teeter launched a donation card campaign to support United Way, an organization creating long-lasting change for those most in need through strategic community philanthropy.
From Aug. 13, 2014 – Sept. 12, 2014, Harris Teeter customers at every Harris Teeter location will be able to make $1, $3 or $5 donations to United Way at checkout. Similar community-based donation card campaigns hosted by Harris Teeter have raised nearly $600,000 in a given month, and last year, Harris Teeter customers donated over $520,000 to local United Ways as part of this campaign.
"Harris Teeter is proud to once again support United Way and is thankful for both the involvement of its associates and its customers," said Catherine Becker, communication manager for Harris Teeter. "Our customers are also extremely generous, and our goal during this campaign is to not only raise money for United Way, but to also increase awareness of the nonprofit's role in raising funds for its local nonprofit partner agencies."
The funds donated to United Way at checkout will be given to the United Way chapter in the community nearest to the Harris Teeter where the money was raised.
To learn more about United Way, please visit http://www.unitedway.org.
About Harris Teeter
Harris Teeter, with headquarters in Matthews, N.C., is a wholly-owned subsidiary of The Kroger Co. (NYSE: KR). Harris Teeter reported 2013 sales of $4.71 billion. The regional grocery chain employs approximately 26,000 associates and operates stores in North Carolina, South Carolina, Virginia, Georgia, Tennessee, Maryland, Delaware, Florida and the District of Columbia.