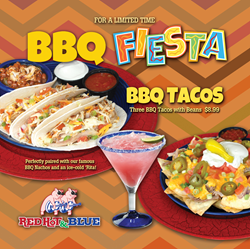 "Because, after all, what do sub, sandwich and burger joints know about smoking their own meats?"
Winston-Salem, NC (PRWEB) August 12, 2014
The Red Hot & Blue Restaurants in Virginia, Maryland, New Jersey, North Carolina and Missouri are "going south of the border" to celebrate a new limited time menu item: BBQ Tacos! The BBQ Fiesta begins on Thursday, August 14, 2014 and will continue through Wednesday, September 24, 2014.
During the six-week celebration, Red Hot & Blue is offering a platter full of three BBQ Tacos (stuffed with your choice of low and slow, hickory-smoked Pulled Pork, smoked Pulled Chicken or oh-so-tender smoked Beef Brisket), topped with fresh lettuce, ripe red tomatoes and shredded cheddar cheese, gently wrapped in a soft flour tortilla shell and served with smoky BBQ beans for only $8.99. For those who enjoy extreme flavor, the Tacos are even more sinfully delicious when topped with one of Red Hot & Blue's five signature BBQ Sauces.
"Many restaurants are adding Pulled Pork sandwiches to their offerings and imitating Red Hot & Blue's award-winning BBQ formula – authentic Memphis-style barbecue using hickory logs, low temperature and long cooking times with only top quality meats and ingredients. While we are flattered by their attempt to imitate, we are busy kicking up the flavor and elevating the BBQ category with unique and delicious new menu items," said President Randy McCann.
"You won't find real, authentic, slow, hickory-smoked Pork, Chicken and Beef at these other restaurants. And BBQ connoisseurs know the real thing – and they choose Red Hot & Blue. Because, after all, what do sub, sandwich and burger joints know about smoking their own meats? Red Hot & Blue has always specialized in Southern cuisines –– we travelled just a little further South for inspiration on this limited time menu item," says McCann.
Red Hot and Blue Restaurants, Inc. was named in the top 3 "Best Barbecue Chains in America" according to The Daily Meal article originally published on March 5, 2014. Editor Dan Myers sifted through regional preferences to funnel the most popular chains in his list of 10 Best Barbecue chains in America. Criteria for selection was based on: local renown, consistency of food across all the locations, adherence to traditional barbecue techniques like "low and slow" on-premise smoking, atmosphere and most importantly, if the food tastes good.
The article was also picked up by USA Today and MSNBC. The full article may found online at:
http://www.thedailymeal.com/10-best-barbecue-chains-america/3414.
About Red Hot and Blue Restaurants, Incorporated:
Red Hot & Blue first opened in the Washington D.C. area 25 years ago. 3 politicians and a PBS reporter created the first restaurant because they couldn't find any authentic Memphis-style barbecue on Capitol Hill. Since its start, Red Hot & Blue has grown into 23 locations in 6 states: Maryland, Missouri, New Jersey, North Carolina, Texas, and Virginia, The authentic Memphis-style Barbeque chain's mission is to "serve only the best quality barbeque in a fun, casual atmosphere surrounded by blues music and memorabilia." For more information, visit http://www.redhotandblue.com.
###
For additional information or franchise opportunities, contact: Randy McCann, President, Red Hot & Blue Restaurants, Inc., 154 Charlois Boulevard, Winston-Salem, North Carolina, 27103. Phone: 336-714-1515; E-mail: rmccann(at)rjdmgt(dot)com.