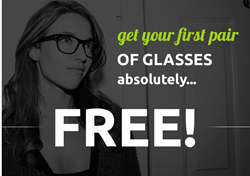 Our exclusive Libero collection offers the most stylish of styles, ranging from casual and relaxed, bold and trendy, to retro and unique and are fashioned from the finest of acetates.
(PRWEB) August 13, 2014
Swifteyewear.com is announcing our First Pair Free program that allows new customers to purchase brand name glasses with prescription lenses completely at no charge!
The announcement, from Joseph Ianni, CEO of Swift Eyewear Inc comes as a result of the recent news that many larger online eyewear companies are canceling their policies on offering a first order at no charge.
"As far as we know, no one else is offering a pair of prescription glasses at no charge online right now. There was a time when some of the larger online retailers had a promotion like this – but that has been rescinded recently. We want the world to know that at Swift Eyewear, we are happy to provide you with a first pair of glasses at no charge." Said Joseph Ianni, Co-founder of the online retailer.
The promotion comes with no strings attached. To purchase a pair of prescription lenses and frames, a new customer simply needs to visit http://www.swifteyewear.com/first-pair-free and select the frames of their choice from the Libero brand. Customers can then add in their prescription and checkout with a $0 pair of prescription glasses.
"We are a customer service company selling prescription glasses" said Pierre Brousseau, co-founder and Vice-President. "Come visit our website and get your first pair at no charge, we promise you'll fall in love with our customer service and remain a customer of ours for years to come."
About Swift Eyewear, Inc.
Swift Eyewear is an online provider of prescription and non-prescription glasses, sunglasses and contact lenses whose mission is to help students by funding bursaries and providing eyewear at no charge through the "Eyeglasses for Education" program. With customers throughout the world, Swift provides low cost eyewear solutions combined with technological innovation to better service its clients.