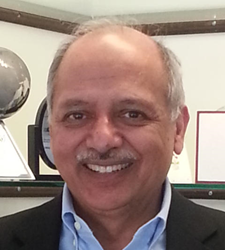 The mission of Magine TV is to become the leading international cloud-based TV service, and our rapid growth has confirmed that users embrace opportunities to enjoy TV in-sync with the realities of their daily lives.
New York, NY (PRWEB) August 13, 2014
Magine TV, the Stockholm, Sweden-headquartered, cloud-based TV service, today announced that Dr. Ambuj Goyal, a 32-year veteran of IBM, has been appointed as President and COO, bringing his expertise to bear in advance of a period of significant international expansion.
A member of the Magine TV board since May 2014, Dr. Goyal has held a number of pivotal roles during a 32-year career at IBM, and has an extensive background in leading technology-driven businesses, most recently as IBM's General Manager of Information Management and Business Analytics, where he drove the company to become a leader in the business analytics space, addressing the urgent requirements of international enterprises and governments for efficient ways to store, manage, and extract value from information.
Dr. Goyal has also led worldwide computer science research at IBM Thomas J Watson Research Center, and shepherded research and development for all of IBM's systems and technology businesses. Dr. Goyal is a Fellow of IEEE (Institute of Electrical and Electronics Engineers) and Association for Computing Machinery.
"The mission of Magine TV is to become the leading international cloud-based TV service, and our rapid growth in Germany since our April launch has confirmed that users embrace the new opportunities offered by Magine TV to enjoy TV in-sync with their requirements and the realities of their daily lives," said Mattias Hjelmstedt, CEO and Founder of Magine TV. "Dr. Ambuj's appointment will contribute to the ongoing enhancement of Magine TV for our existing and growing user base, but also accelerate plans for future international roll-out and expansion."
"Magine TV's cooperative relationship with rights holders and ongoing European successes have proved regular sources of discussion amongst TV industry and technology professionals in the US and other international territories where the service is yet to launch," said Dr. Goyal. "Such attention reflects the fact that Magine TV is re-writing the rules for how users enjoy the TV that they love. I look forward to playing a role in bringing the benefits and opportunities of Magine TV to new markets in coming months."
Also as part of the announcement, Kamal Bherwani, Chairman of Magine TV, was elevated to Executive Chairman, defining his expanding public and visionary role with Magine TV. Before joining the Magine TV board, Bherwani held the roles Chief Digital Officer and Chief Technology Officer at PRISA, the world's largest Spanish language media company, where he led its transformation from a traditional to a global digital media company.
About Magine TV
Headquartered in Stockholm, Magine TV is a pioneering internet-based TV company, offering live and catch-up TV, across multiple devices, in an innovative and accessible way for users, in full partnership with the industry. Magine TV offers viewers the best content and user experience possible: rebuilding TV around its users, whilst ensuring a sustainable, productive, long-term model. The Magine TV experience is easy, flexible, mobile, personalised, and social, as well as constantly growing and being refreshed; delivering content directly to the individual user. In addition to having fully launched in Germany (in April 2014), where Magine TV now offers multiple national and international channels including ARD, ZDF, RTL, ProSieben and Sat.1, the business launched commercially in its native Sweden in March 2013, hosting some of the world's best known brands and channels, including Disney, Discovery, Fox, CNN International, BBC, Eurosport, National Geographic, Nickelodeon and Cartoon Network, as well as Swedish national broadcasters. A beta version of Magine TV has also been rolled-out in Spain (July 2013), with a commercial launch set to follow.