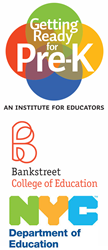 We are proud to support Mayor de Blasio's efforts to help create high quality, engaging, and supportive learning environments for every four-year-old in New York City.
New York, NY (PRWEB) August 12, 2014
On August 12, Bank Street College of Education kicks off the first sessions of a professional development institute for thousands of early childhood educators, in collaboration with the New York City Department of Education. The Institute, titled "Getting Ready for Pre-K," will prepare teachers, assistant teachers, and paraprofessionals to answer Mayor Bill de Blasio's call to provide high-quality, full-day pre-Kindergarten services in public schools and Community Based Early Childhood Centers for more than 50,000 children across New York.
"Bank Street is known for its commitment to social justice and early childhood education," said Shael Polakow-Suransky, Bank Street's president. "We are proud to support Mayor de Blasio's efforts to help create high quality, engaging, and supportive learning environments for every four-year-old in New York City."
The Institute's classes, hosted at Brooklyn College and Queens College over two weeks in August, will be led by educators and leaders who collectively represent more than a millennium of experience in early childhood education. Starting Tuesday, August 12, there will be two 3-day programs followed by an additional two 3-day programs beginning August 19 at both Brooklyn College and Queens College. Pamela Wheeler-Civita, an alum of Bank Street's Graduate School and Head Teacher in its Family Center, is one of 80 facilitators leading the trainings. Wheeler-Civita said Bank Street's approach encourages teachers to make parents partners in their child's education and to learn what motivates individual children.
"When kids and families feel they can relate to teachers and their school, they're more likely to think of school as a positive experience," she said. "I'm excited to meet and work with new colleagues throughout the city who can make that happen for so many four-year-olds."
Dr. Nancy Nager, a developmental psychologist and Bank Street graduate faculty member, led the curriculum development for the Institute. Dr. Nager said it was important that work take into account "how a developing child interacts with materials and people in the social and physical environment."
"Bank Street's graduate programs, research, and services have a positive real-world impact on the education and well-being of young children, their families, and communities," said Dr. Nager.
"No single ingredient matters more to a great classroom than an outstanding teacher, and that's why we are investing like never before in training, coaching and professional support for our educators. We are thrilled to have Bank Street as a partner in helping develop the skills of our pre-k educators. We are committed to building a strong, unified and high-quality system for our children, and cultivating a new generation of great teachers to shape it," said Deputy Mayor Richard Buery.
Beyond the Graduate School and Family Center, the work of the Pre-K Institute is informed by the success of Bank Street's many programs focused on early childhood learning and development. Bank Street Head Start provides a safe and encouraging learning environment for 68 young children from low-income families. Bank Street's federally funded National Center on Cultural and Linguistic Responsiveness (NCCLR), develops resources that help teachers in the nation's Head Start centers understand cultural differences in order to better support families of all backgrounds. The College also partners with MDRC on Making Pre-K Count, which provides coaching and mentoring to preschool teachers to introduce math concepts to young children via games and activities.
Families can still apply for free full-day pre-K in their neighborhoods and receive alerts and information, visit nyc.gov/prek or text prek to 877877.
ABOUT BANK STREET COLLEGE OF EDUCATION
Bank Street is recognized around the world for its leadership in early childhood education. The College was heavily involved in the creation of the nation's Head Start and Follow-Through programs in the 1960s, and today its Graduate School of Education continues that legacy by preparing early childhood educators to meet the needs of every child. Bank Street alumni serve in public, private, and charter schools, lead education programs in community-based organizations and museums, work in hospitals and healthcare settings, and collaborate with schools and governments globally to improve the lives of children and their families. http://www.bankstreet.edu.