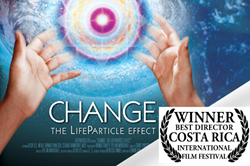 I have yet to go to Costa Rica but what really amazes me about this award is how far reaching the message of CHANGE has been.
(PRWEB) August 12, 2014
"CHANGE: The LifeParticle Effect" has won Best Director at the 8th Annual Costa Rica International Film Festival.
The film is a progressive, trailblazing documentary about life energy and human potential from executive producer Ilchi Lee, and was screened at this year's festival, held July 23 - 27, 2014.
The film was directed by Edwin Kim and EJ Lim.
Film screenings were held at the theatre at Sano Banano Village Hotel in Montezuma, Costa Rica, followed by Q&A sessions with all attending filmmakers.
The festival's Director of Communications, Sandy Astudillo, says, "Thank you for sharing your work with us. It is wonderful to be able to screen such great documentaries with such an important message. It was indeed one of my favorites."
"I have yet to go to Costa Rica," says EJ Lim, "but what really amazes me about this award is how far reaching the message of CHANGE has been. I feel thrilled and honored."
The film has also received awards in technical achievement from VISIONFEST 14, Tribeca, NY and numerous awards from the International Film Festival for Spirituality, Religion and Visionary 2013 in Jakarta, Indonesia.
About the Film Festival:
CRIFF is dedicated to showcasing the brightest independent filmmakers from every corner of the world. This is truly an international event, where filmmakers from every country come together to meet, discuss their ideas and visions - and showcase their films in paradise.
About the Film:
"Change: The LifeParticle Effect," was created and co-Produced by bestselling author and energy expert, Ilchi Lee and LifeParticleTV in May 2013. The film has received accolades and endorsements from visionaries Michael Beckwith and Neale Donald Walsch and multiple other film festivals.
This film uses a mix of interviews and animation to illustrate the relationship between consciousness and matter, proposing that the two exist as a single unit at the fundamental levels of reality. Everything exists as potential, the film explains. It is only up to individuals to choose how they want life to present itself.
About ChangeYourEnergy.com:
ChangeYourEnergy.com is a wellness lifestyle resource based on energy philosophy and the teachings of Ilchi Lee, a meditation and brain education leader. Changeyourenergy.com offers accessible, around the clock guidance, inspiration and practical online training to enable people to realize and activate their full human potential. The site offers lifestyle tips, health and wellness articles, exclusive seminars and personal development coaching.