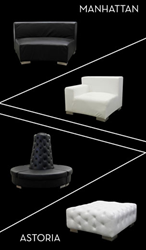 These new modern furniture collections have been highly requested from regional event designers.
San Francisco, CA (PRWEB) August 12, 2014
The Stuart Rental Company launches two new product lines to its online repertoire, The Astoria Lounge Furniture collection and the Manhattan Lounge Furniture collection. Both new product lines are offered in black and white color options. They offer 360 degree seating options and a style that will certainly grab the attention of any event goer. They are designed to add a splash of modern and comfort to any event. The furniture measures on average 29 inches in height and anywhere from 2 to 6 feet in width.
The Astoria Lounge Collection has a diamond tufted texture and is offered in 5 pieces. The Manhattan Lounge Collection is designed with smooth clean lines and is offered in 9 pieces. Both collections can be interchanged to create stunning and creative furniture configurations.
The Stuart Rental Company owners believe the use of these new furniture options for events is an excellent way to brighten up the atmosphere. "These new modern furniture collections have been highly requested from regional event designers." says Andrew Sutton, EVP. These furniture collections are extremely versatile where multiple pieces can be combined to form an array of furniture options for any event. "We have mixed different options together with multiple event pieces for a stunning indoor vibe," says Andrew. The Stuart Rental Company also offers custom event design services to make sure you have the perfect selection for your next party or event.
About The Stuart Rental Company
From corporate events and fundraisers to weddings and birthday celebrations, The Stuart Rental Company is dedicated to helping its customers celebrate life's most memorable events. The Stuart Rental Company is comprised of a group of dedicated professionals, with years of event expertise, who care about your event. With showrooms located in Milpitas, Mountain View and Castro Valley, the company has provided quality party rentals and tent rentals throughout the San Francisco Bay Area for over 100 years.
Stuart Rental offers a large selection of tent rentals including various size tents, lighting, drapery, staging, dance floors, etc., as well as party rentals, including tables, chairs, linens, china, flatware, glassware and much more. Stuart Rental not only has the products to realize your event vision, but we have the expertise and dedication to make your event a true celebration of life. Like us on Facebook and follow us on Twitter @stuartrental.