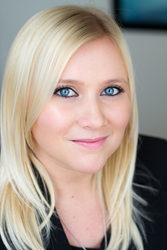 Her perspective, plus our more than 25 years of working with global businesses, makes us an unbeatable ally for these emerging brands.
Boca Raton, FL (PRWEB) August 12, 2014
As it continues on a path of planned growth, global brand management company, Nutritional Products International (NPI), has named Monique Vickers as the newest member of its administrative team. In Vickers, NPI gains a unique background and perspective.
Vickers grew up in Pretoria, South Africa, where she enjoyed living in a global melting pot. She had friends from Taiwan, London, Germany, and Uruguay, which gave her a unique appreciation for foreign cultures.
"You just grew up differently when you get to sample so much of what the world has to offer," said Vickers. "From an early age, I understood how your background shapes you as a person and how we can all appreciate the little difference among us."
With NPI, Vickers will be part of a team that helps foreign entrepreneurs import, distribute and promote their brands in America. Her insight will prove invaluable as she helps these brands make the transition to the largest market in the world.
"Monique gives us that extra edge when it comes to working with our foreign partners," said Mitch Gould, Nutritional Products International CEO.
Gould, who has worked with some of the biggest names in sports and entertainment, handpicked Monique.
"Her perspective, plus our more than 25 years of working with global businesses, makes us an unbeatable ally for these emerging brands. Monique understands their worlds and can help them understand how they can fit into the United States."
For Vickers, working at NPI also means coming in contact with some pieces of home. While on the job, she was proud to work with longtime NPI client, Native Remedies. The South African company produces a supplement that helps her cope with the symptoms of vertigo.
"To have an effective treatment for my vertigo is wonderful," said Vickers. "To know that I'm working for a company that's helping bring this kind of relief to others in America is even better."
Nutritional Products International provides companies worldwide with distinctive sales and marketing solutions, enabling their products to enter and be successful in the U.S. market. NPI maintains close relationships with key buyers across the U.S, providing foreign brands with a fast track to the world's biggest marketplace. It's all done in a very cost effective and profitable manner. NPI obtains orders for client products from some of the largest distributors and retailers in the United States, increasing sales in the Dietary Health Supplement, Functional Food, Skin Care, and Nutritional Beverage Industries.
For more information, visit http://www.nutricompany.com.