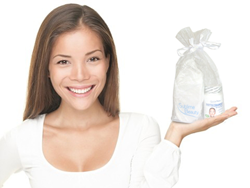 This skincare kit offers a 1-2 punch for skin: replenish ceramides for moisturer, younger skin, and brush the body for well-being and better skin quality.
St. Petersburg, FL (PRWEB) August 12, 2014
Two simple products in the new Sublime Beauty® kit take minutes to use each day and deliver great benefits.
"We offer the healthy Skin Brush along with a bottle of all-natural Phytoceramides for great results," says Kathy Heshelow, founder of Sublime Beauty®.
Skin Brushing improves skin and body well-being. Brushing the body each day for about 10 minutes helps to not only turnover new skin as dead cells and toxins are exfoliated. It also boosts blood circulation, helps the lymphatic system move, and reduces cellulite among other things.
Sublime Beauty® has a specific website all about Skin Brushing to learn more, and the brush in the kit was featured in Glamour Magazine.
The skin care kit also includes natural Phytoceramides. Take one capsule per day, which delivers ceramides back to the skin safely.
Ceramides are reponsible for moisture-retention and barrier-protection functions, but we lose ceramides as each year passes. Replenishing ceramides takes about a month (the time skin turns over fully) so results will be seen after a month. Skin Brushing will help the overall process.
A special website about Phytoceramides is found here. In addition, Heshelow wrote a book about Phytoceramides to help understand them more fully, and offers a brochure on the website to explain further.
The skin care kit can be purchased at a 15% discount this week at the Sublime Beauty Webstore with coupon code: 15Kit.
ABOUT: Sublime Beauty® is a quality skincare company that focuses on products to "Age Younger." Ingredients help to boost collagen, hydrate, relax wrinkles and improve skin. A niche includes healthy Skin Brushes. The company webstore offers free standard shipping and a VIP Club. Sign up for Secret Sales on the site. Products also available on Amazon.