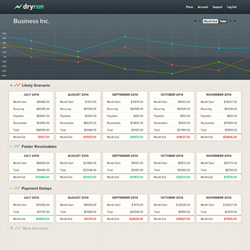 Many a profitable business on paper has ended up in bankruptcy.
Edmonton, Canada (PRWEB) August 13, 2014
Despite the fact that Dun & Bradstreet still reports that 90% of small business failures are caused by cash flow, most business owners don't truly have a handle on it," says Philip Campbell, a CPA, former chief financial officer in several companies and author of "Never Run out of Cash".
Until now, the best advice from finance experts was to create a spreadsheet. But many small business owners complain that spreadsheets can be difficult, confusing, slow to use and easy to break.
Lisa Hagen, a partner in Unthinkable, a multi-office, cross-border design and digital strategy company, knows very well the struggles small businesses face when dealing with finance and cash flow projections. Initially, Hagen was struggling "with a really complicated spreadsheet – it took up quite a bit of time and it was not very intuitive… and it wasn't really easy to understand at a glance," Hagen says.
Hagen's issue mirrors the typical cash flow problems of small business. "Because we're a startup company, we're always invoicing clients and never really know when the money's actually coming in and see how much money we're going to have on hand over the next six months."
How Do Profitable Businesses Go Bankrupt?
Campbell's advice to small businesses like Hagen's is dire: "Many a profitable business on paper has ended up in bankruptcy because the amount of cash coming in doesn't compare with the amount of cash going out."
Businesses must prepare for the unexpected, but most small businesses rely on a single line of sight and don't prepare for 'what if' type scenarios. Often the case because projecting different scenarios based on changes in timing, revenue or expenses are time-consuming and cumbersome.
But that all changed for Hagen when she discovered a new cloud-based cash flow app called Dryrun.
Dryrun Offers a Key Cash Flow Feature Not Available With Other Tools
Upon discovering Dryrun, Lisa was eager to explore the ability to run scenarios, a feature that is rarely offered in other cash-flow apps and can be difficult to model in spreadsheets. "I don't spend a lot of time. It's really quick to update," says Hagen. "Any time I'm prepping an invoice or I have received new information about payments or we are booking new business – I just pop into Dryrun and update my projections in just a few minutes," she says.
Hagen has started to use Dryrun pretty much on a daily basis. She uses it to manage cash flow including tracking and updating expected payment date, to run scenarios on key issues (such as hiring new employees) and also to model out the company's sales forecasts.
Businesses Can Test Drive Dryrun for Free
Hagen says that Dryrun has really helped Unthinkable streamline their operations, save time, understand their business and make plans for growth. "I don't know how we were functioning before. I don't think we had a really clear idea of what was going on," says Hagen.
Sign up for a free 30-day trial or learn more at http://www.dryrun.com.
By Blaine Bertsch
Blaine Bertsch is the founder of Dryrun, a cloud-based cash flow tool for small business. The simple and clear interface gives users the power to compare cash flow scenarios with crystal-clear visuals.