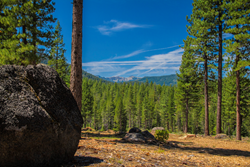 Many of our buyers are in the tech-sector and are early adopters of bitcoin. We understand the importance of adapting to cutting edge purchasing methods, including the use of virtual currencies
Truckee, CA (PRWEB) August 13, 2014
Martis Camp, North Lake Tahoe's premier luxury real estate community, announced today that it has closed on potentially the largest recorded real estate transaction involving bitcoin. Martis Camp is set up as a merchant with Bitpay, a leader in business solutions for virtual currencies that allows buyers to easily convert their bitcoin into U.S. Dollars. The parcel of land sold is valued at $1.6 million. The sale price would trump the $500,000 paid for a villa in Bali in February, believed at the time to be the largest single consumer purchase conducted in the virtual currency.
"Many of our buyers are in the tech-sector and are early adopters of bitcoin. We understand the importance of adapting to cutting edge purchasing methods, including the use of virtual currencies," says Martis Camp Sales Director Brian Hull. "The transaction itself was simple. An invoice was sent and the buyer's bitcoin was easily transferred into U.S. Dollars to complete the sale. We now welcome the opportunity to work with buyers and their bitcoin through the Bitpay service."
Bitcoin, a peer-to-peer payment network and digital currency, was introduced in 2009 and has substantially lower payment processing fees than those of credit cards or money transfers. BitPay managed the Martis Camp transaction and enables payment into bank accounts in either bitcoin or U.S. dollars. The online virtual currency merchant also manages transactions for car brands like Tesla and Land Rover.
The 1.4-acre homesite is part of the community's Lodge Estates, the final phase of homesites released earlier this summer. This last offering of 42 homesites represent some of the most coveted locations at Martis Camp and is the final chapter in what has been one of the most successful real estate stories in the last decade. Since launching sales in 2006, Martis Camp has grown into a community of more than 560 families, with over 80% of its properties sold and more than 400 homes either built, under construction or in architectural design. Sales continued to thrive in the first half of 2014, with 101 properties either sold or in escrow since January 1, 2014 for over $175 million.
For more information on Martis Camp, please visit http://www.MartisCamp.com or call 1-800-721-9005.
ABOUT MARTIS CAMP:
Martis Camp is a private gated community located between Truckee and North Lake Tahoe in the Martis Valley. Situated on 2,177 acres with sweeping topography, the land itself embraces the true essence of High Sierra living. A year round community, Martis Camp Club offers private ski access via the Lookout Lodge and Martis Camp Express Lift to Northstar California™ in winter and a Tom Fazio 18 hole golf course in the summer. Martis Camp Club members enjoy a vast array of amenities including the Family Barn complex with swimming, a bowling alley, art loft, movie theater, indoor basketball court, soda fountain and outdoor performance amphitheater; an 18-hole putting park; Sporting fields and pavilions; Camp Lodge with dining venues, club spa and fitness center and vitality pools; Folk School; Lost Library; 26 miles of private trails for hiking, snowshoeing and cross-country skiing and a private mountain clubhouse at the base of Lookout Mountain. http://www.martiscamp.com