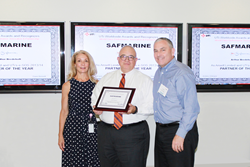 "Safmarine plays a critical role in supporting Ansell's business," said Diane Bennett, SVP Procurement for UTi Worldwide.
Long Beach, California (PRWEB) August 20, 2014
UTi Worldwide Inc. (Nasdaq: UTIW), a global supply chain services and solutions company, together with its client, Ansell Limited, named Safmarine their "Partner of the Year" for 2013-2014 during their annual Ocean carrier performance review meeting in July.
The award recognizes the strength of Safmarine's relationship with UTi Worldwide and Ansell Limited. UTi and Ansell jointly selected Safmarine as a global ocean partner as part of their Strategic Ocean freight Partnership program. Ansell's relationship with UTi now enters its 10th year.
"Safmarine proved to be our most supportive ocean carrier, in terms of their understanding of what we need in a logistics partnership. Safmarine has consistently delivered reliable service," said Andrew Gillespie, Ansell's director of global logistics.
Since 2005, Safmarine, in support of UTi, has connected Ansell's manufacturing bases in Sri Lanka and Malaysia to their customers around the world, according to Diane Bennett, UTi's senior vice president, Procurement.
"Safmarine plays a critical role in supporting our client's business particularly in the Indian Sub-Continent, Europe and North America regions," she added.
In delivering the award to Arthur Bredehoft, Bennett praised Safmarine for being proactive and innovative while always putting customers first.
About UTi Worldwide
UTi Worldwide Inc. (http://www.go2uti.com) is an international, non-asset-based supply chain services and solutions company providing air and ocean freight forwarding, contract logistics, customs brokerage, distribution, inbound logistics, truckload brokerage, and other supply chain management services. The company serves a large and diverse base of global and local companies, including clients operating in industries with unique supply chain requirements such as the retail, apparel, chemical, automotive, pharmaceutical, and technology industries. The company seeks to use its global network, proprietary information technology systems, and relationships with transportation providers, and expertise in outsourced logistics services to deliver competitive advantage to each of its clients' supply chains.
About Ansell
Ansell is a global leader in protection solutions. Ansell designs, develops and manufactures a wide range of hand and arm protection solutions, clothing and condoms. Industrial workers, healthcare professionals and patients, and consumers around the world invariably associate Ansell with premium quality, optimal protection and superior comfort.