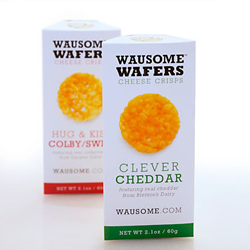 Wausome Wafers combine the very best parts of cheese and crackers into one wafer… the cheese is the cracker.
Wausau, Wis. (PRWEB) August 13, 2014
Wausome Foods, a specialty foods company from Wausau, Wis., announced the immediate availability of its Wisconsin cheese crisps in two delicious flavors: Clever Cheddar and Hug & Kiss Colby/Swiss. Made entirely with signature cheeses from Wisconsin's best dairies, Wausome™ Wafers cheese crisps have a 9-month shelf life for easy, healthy snacking on the go for work, school and play.
Wausome Wafers cheese crisps are baked into crunchy circles of astonishing flavor and texture; Naturally gluten-free, sugar-free, and low-carb, the cheese crisps are also rich in calcium and high in protein. However, it is their deliciously intense cheese flavor that makes them an excellent choice for families and foodies alike.
"Wausome Wafers combine the very best parts of cheese and crackers into one wafer… the cheese is the cracker," said Brian Gunning, Cheese Executive Officer for Wausome Foods. "Unlike other cheese crackers, Wausome Wafers cheese crisps are made with 100 percent specialty Wisconsin cheese and are delicious for snacking solo or for dressing up appetizers, salads, soups and more." Gunning added, "We at Wausome Foods are helping cheese to realize its true potential."
With no need for refrigeration, Wausome Wafers cheese crisps are an ideal treat anytime, anywhere--dinner parties, picnics, tailgating, kids' lunches, office breaks, post-workout refueling, and more. They pair especially well with wine, beer, fresh fruit and chocolate. While initially available in two flavors, Wausome Foods expects to expand the specialty product line to include other signature flavors such as Soupa Gouda, Bliss Swiss, and Party Havarti.
Cheese lovers everywhere can order gift packs (6-count) or cases (24-count) of Wausome Wafers directly from Wausome Foods at store.wausome.com with the promotional code "WAUSOME4ME" to receive free shipping (offer ends Oct. 30, 2014).
Wausome Wafers are also sold through Amazon.com and by a growing list of specialty retailers around the country; see wausome.com/where-2-buy for a full listing of current retailers.
Retailers will find Wausome Wafers cheese crisps particularly attractive as the holidays approach. The crisps' long shelf life and their eye-catching triangular boxes make Wausome Wafers the ultimate gift-basket treat, satisfying cravings for Wisconsin cheese any place imaginable.
About Wausome Foods
Founded in 2013, Wausome Foods is a Wisconsin-based, family-owned specialty foods business with a simple goal: bringing wholesome, awesome specialty snacks to everyone, everywhere. Wausome Wafers Clever Cheddar cheese crisps feature real cheddar cheese from Bletsoe's Cheese. Wausome Wafers Hug & Kiss Colby/Swiss cheese crisps feature real colby/swiss cheese from Decatur Dairy. For more information, visit wausome.com.