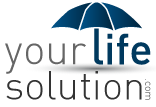 Chicago, IL (PRWEB) August 12, 2014
YourLifeSolution.com, a service which allows consumers to view online life insurance rates without having to enter any personal information, has today published an infographic which makes the bold argument that not only should consumers own life insurance, but that they should have had it years ago. "People often feel as though 'it's time' to get life insurance when they are over the age of 50 and not all that healthy. While it's understandable, it's financially illogical to wait until you absolutely see a value in life insurance before getting it. It's far less expensive and of greater financial security to simply purchase and maintain life insurance years or even decades before it is imperative to own it. I own a permanent life insurance policy that I don't truly need; I highly doubt I'll regret owning it decades from now when I'm still paying the same fixed rate for it," said Eric Smith, the founder of YourLifeSolution.com.
The infographic espousing the importance of life insurance can be seen here: http://life-insurancequote.tumblr.com/image/94481421395.
Consumers seeking objective online information about life insurance: are encouraged to visit YourLifeSolution.com, or call 888.374.2764.