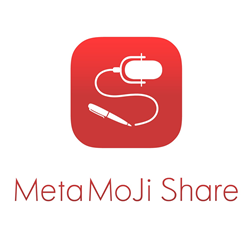 We want the world to see MetaMoJi as the preferred brand for an expanding market for mobile productivity application services.
Palo Alto, California (PRWEB) August 12, 2014
MetaMoJi announced today new names for its award-winning personal and group productivity applications.
The company's popular "Note Anytime" and "Share Anytime", both available in 13 languages for Apple, Android and Windows devices, will now become "MetaMoJi NOTE" and "MetaMoJi SHARE," respectively.
MetaMoJi first introduced its family of state-of-art personal and group productivity applications in 2011 with its award-winning handwriting and notetaker, 7Notes. With the introduction of the iPad, MetaMoJi was one of the first to integrate cross-platform mobile applications and cloud server technologies.
NOTE and SHARE
In today's fast-paced mobile world, users need to access notes, images and audio files from everywhere.
Said MetaMoJi CEO and co-founder Kazunori Ukigawa: "We want the world to see MetaMoJi as the preferred brand in the expanding market for mobile productivity app services. We believe the introduction of our new voice recording feature makes this the right time to brand our flagship products with the MetaMoJi company name."
MetaMoJi NOTE, the top mobile productivity application in Japan, has become globally acknowledged as a universal answer to note taking across all mobile devices: Apple, Android and Windows with over two million downloads.
More than a simple note taking app, MetaMoJi NOTE is also a PDF annotation tool, an interactive web browser, a stylish drawing and sketching app and more.
MetaMoJi SHARE, introduced as Share Anytime in 2013, acts as a perfect complement to teleconferencing and group meeting apps, permitting users to visually express ideas over an interactive whiteboard which immediately shows results in real-time.
Voice recording
The new audio recording capability, introduced across both products for the first time this summer, delivers an accurate audio record to supplement meeting minutes, significantly boosting group and individual productivity.
When note taking and even handwriting are not fast enough, the new voice recording features in MetaMoJi NOTE and MetaMoJi SHARE offer an easy and much richer way to capture ideas and inspiration.
Said Hatsuko Ukigawa, President and Co-Founder: "Users can now reliably record, attach and preserve an audio file inside MetaMoJi NOTE and MetaMoJi SHARE, preserving an accurate record of an important meeting with colleagues, a class lecture, or a memorable speech. Users can share an entire package as needed after recording, including handwriting and typing at the same time without switching between applications."
Voice memos now can be recorded and linked with written notes so that users can replay captured audio without the trouble of searching for separate elements. All text and image elements can become indexes as well for simultaneously recorded audio records. The consolidated files – words, pictures, audio – can be instantly distributed worldwide via mail or cloud server.
About Kaz and Hasuko Ukigawa
Software pioneers Kazunori and Hatsuko Ukigawa introduced Asian business to the personal computer more than 20 years ago, inventing many of the input methods by which today most Asia computer users still operate their desktop and mobile devices.
They were the first in Asia to code and then introduce a complete keyboard-based word processing system and office software suite, named Ichitaro, completely compatible with kanji.
With MetaMoJi NOTE and MetaMoJi SHARE, the Ukigawas continue their innovation on mobile devices, earning them the deep and enduring respect of the global technology industry around the world.
About MetaMoJi
MetaMoJi creates products to break barriers between devices and users with revolutionary applications on smartphones and tablet devices. MetaMoJi's unique innovations give users the comfort of an analog experience with the convenience of digital technology. MetaMoJi's mission is to contribute to the advancement of human beings with unique applications to collect knowledge, write documents, organize ideas and share them with others. Please visit the corporate site at http://www.metamoji.com for more information.