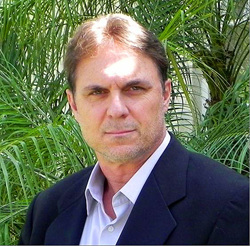 It's a little like explaining the unexplainable, but in my course I take a "step by step" approach to getting students prepared for this and how to "court the muse" in a somewhat non-new-age way." Guy Thomas
Phoenix, AZ (PRWEB) August 13, 2014
Songwriter – musician - composer - singer Guy Thomas has launched a new Udemy online course called Songwriting: The Creative Process for Beginners which is designed to communicate how the "creative process" of creating a song works.
Thomas says he is using the Udemy online learning platform as a way to reach students who live outside the Los Angeles area and may not be able to take a similar course he teaches at UCLA Extension. He says it also helps make the information more affordable for those who live locally.
"Every songwriter has their own method of writing unique to their own process," says Thomas. "But there are still commonalities. In this Udemy course I try to show examples of how other songwriters work. What they were thinking. I try to stay away from rules as much as possible in this course. My goal is opening up the infinite possibilities in songwriting and being in touch with the ones that fit each individual's style and personality."
Thomas says the course is designed to communicate how the creative process works.
"It's a little like explaining the unexplainable," he says. "But in my course I take a "step by step" approach to getting students prepared for this and how to "court the muse" in a somewhat non-new-age way."
Thomas is a songwriter, composer, singer, and multi-instrumentalist musician who has recorded with and written for some of the biggest names in popular music.
In the eighties he signed as a staff songwriter and had his songs recorded by numerous artists, including Carly Simon, Kenny Rogers, Smokey Robinson and Kenny Loggins. He co-wrote the hit "Conviction of the Heart" with Kenny Loggins, along with "Leap of Faith" and "Now or Never" for Loggins' "Leap of Faith" album. He has also performed with other artists such as, Amy Grant, Michael McDonald, The Rembrandts, Michael Bolton, and Jackson Browne.
In addition to his work as a singer – songwriter, Thomas has worked on various television and film projects. His extensive library of music cues continues to be heard on a variety of shows on "Discovery Channel," "History Channel," "National Geographic Channel" and "A & E." Also including " Dateline," "Famous Homes and Hideaways," "Dateline," "That's So Raven", "Parental Control," "Oprah," "Katie," "Extra," "Anderson Cooper," "Hoarders,'" "Ellen DeGeneres," "Pawn Stars," "On The Case" with Paula Zahn, "Where Are They Now," "Duck Dynasty," "Auction Hunters" "TMZ" as well as NBC Sports and Movietickets.com.
In the last 10 years, Thomas has scored hundreds of one and two hour prime-time cable television shows and specials.
Go here for Guy Thomas' website.
Thomas says access and price are great upsides to creating an "online" course. However he is also aware this comes with limitations.
"The downside of not being in the classroom with students is not having a "one on one" experience," says Thomas. "But I hope to get around that a little by the video I have created for the course and by exchanging ideas with students through email."
He says in the end, it is not about the technology, but about musicians "connecting" with their music.
"When you have so many options, things can become confusing," says Thomas. "However, things become clearer as you listen to the feelings you get from the music you make. What are you trying to say? Why do you want to express yourself in such a vulnerable way? These kind of questions need to be thoughtfully explored to understand what elements come together for you as a songwriter."
Go here for Guy Thomas' "Songwriting: The Creative Process for Beginners" Udemy course.
Go here for Guy Thomas' website.