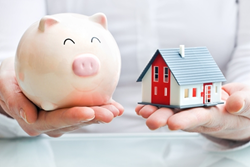 If one has an option, determining whether to pay for taxes and insurance through an escrow account comes down to your spending habits
Chicago, IL (PRWEB) August 11, 2014
When an individual nears the end of their home buying experience, The Federal Savings Bank reminds readers that they may need to set up an escrow account.
An escrow account holds funds collected by the mortgage provider to make homeowners insurance and property tax payments on their behalf. Contributions to the account are typically required each month so the mortgage company has enough money to cover the costs.
If a home buyer received a low cost mortgage from the U.S. Federal Housing Finance Agency, you are required to set up an escrow account. For other loans, such as some offered by The Federal Savings Bank, one may be given the choice, especially if the buyer is willing to provide 20 percent of the home's cost as a down payment.
How does an escrow account work?
Property taxes and homeowners insurance payments are billed annually. If paying out of pocket, one will have the entire year to secure the funds their need. However, paying once a year is frowned upon as some may forget to save a large amount to make a large one time payment. Depending on their finances and ability to save money, this could be a hefty expense.
With an escrow account, the amounts for property taxes and homeowners insurance are split into 12 parts which are sent to their lender on a monthly basis along with a mortgage bill. When the annual amount is due, the lender submits the payment using smaller payments. This allows the buyer to avoid paying a large sum at once and the hassle of having to save for the bills far in advance.
Should you set up an escrow account?
If one has an option, determining whether to pay for taxes and insurance through an escrow account comes down to your spending habits. Paying out of pocket gives the individual the opportunity to accrue interest on their money before you make the payment if they save in an interest-bearing account, possibly providing the chance for extra funds when the bills are due.
However, this strategy isn't beneficial if the individual is a wasteful spender or runs into unexpected costs. If this were to occur, one may not have the funds their need when the bill is due or be financially strained after they make a payment. Given that the total cost could be a few thousand dollars, breaking up the bill and putting the funds in escrow can be better for a budget.
For more information about managing your costs of homeownership with an escrow account, contact The Federal Savings Bank, a veteran owned bank.