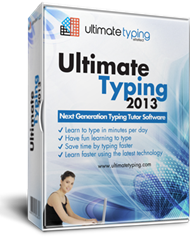 Typing fast is essential these days, but not only for computer professionals and people hoping to become part of an IT workforce.
New York City, NY (PRWEB) August 12, 2014
For Ventura, a leading educational systems company, there's no doubt that touch typing is an essential tech skill, as eReflect reveals in a recent blog post on the Ultimate Typing website. The proliferation of touch typing devices and keyboard-based gadgets makes it impossible to deny the central role that touch typing plays in peoples' professional and interpersonal lives.
Once, keyboarding was considered a skill only a few professions required. Now, every office worker, student, and technology user needs to have at least basic touch typing skills to keep up with the competition as society moves into a completely interconnected and computer-based future.
Typing fast is essential these days, but not only for computer professionals and people hoping to become part of an IT workforce. It is an essential skill for students as young as 8 and 9 years old. The Common Core standards adopted by the majority of US states expects 4th graders to possess at least average touch typing skills, and to use those skills when doing research and homework assignments. They also require these students to type their answers to essay questions when taking exams.
Ventura knows that touch typing will only grow further in popularity and demand. To ensure younger people have all the essential skills they need to succeed today in school - and tomorrow in the workplace - parents and teachers need a rigorous approach to teaching children how to touch type. This can be done through online typing courses, a touch typing software like Ultimate Typing™, or through customized computer practice and online games.
Ventura emphasizes how crucial it is to introduce touch typing to students using a "play not work" approach to ensure they associate it with positive concepts. Furthermore, letting children see typing as a game helps them avoid becoming intimidated by the process.
Having students take frequent breaks during typing practice is another important aspect to consider when planning typing classes, as Ventura notes in the Ultimate Typing™ guest blog. Breaks ensure the student is motivated to practice and doesn't feel bored by too many repetitions of the exercises. To help keep students interested, it's good to have a user-friendly software interface to practice with. Quality typing software give students a comprehensive typing practice routine, video tutorials, and typing games so that each user can customize their practice schedule. Teachers and students alike will also benefit if the software includes progress monitoring, so that adjustments can be made as the learning curve increases to ensure the best possible results for every new typist.
For more details on Ultimate Typing™, please visit http://www.ultimatetyping.com/.
About Ultimate Typing™:
Ultimate Typing™ software is designed specifically for the improvement of typing skills. Created by eReflect, a world leader in e-learning and self-development software, Ultimate Typing™ has been informed by the latest developments in the science of touch typing.
Since its creation in 2006 by Marc Slater, the company has already catered to over 112 countries all over the world, offering products with the latest cutting-edge technology, some of which are among the world's most recognized and awarded in the industry.