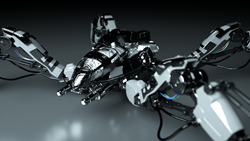 With LightWave 11.6 and OctaneRender 2.0 users can create stunning 3D images and animation of the highest possible quality.
Burbank, California (PRWEB) August 12, 2014
The LightWave 3D® Group, a division of NewTek, Inc., today announced the Ultimate 3D Bundle, a special promotion pairing a new license of LightWave 11.6 with OTOY's OctaneRender 2.0 software for the price of $1595, a combined savings of up to $500. Registered users of LightWave 10 or earlier can save up to $300 when upgrading to the bundle, which is priced at $995. The Ultimate Creativity Bundle is set to end September 30, 2014.
LightWave 11.6 3D modeling, rendering and animation software paired with OTOY's OctaneRender 2.0, the world's fastest GPU-based renderer that is both unbiased and physically-based, gives artists and designers a powerful, intuitive way to quickly create, animate and deliver projects with amazingly photorealistic detail.
With LightWave 11.6 and OctaneRender 2.0 users can create stunning 3D images and animation of the highest possible quality, for everything from architectural visualization and product design to visual effects and motion graphics for television and film. Users can experience up to 50x faster rendering speeds over traditional CPU only rendering. OctaneRender 2.0's intuitive workflow fits seamlessly with LightWave 11.6 and users can take advantage of OctaneRender's real-time scene editor to change camera viewpoints, lights, materials and object positions for immediate viewing in the viewport.
OctaneRender 2.0 is included as both a plugin for LightWave and a standalone program
The LightWave 3D Advantage
Created by artists for artists, LightWave 11.6 offers a complete end-to-end production pipeline for artists and designers to efficiently model, animate, capture, retarget, render, and input and output to 3D.
It features a robust set of 3D modeling and animation tools, including many award-winning, industry-first features like Sub-D modeling, Global Illumination, Geometry Cache (MDD), and Embedded Morph Targets (Endomorphs). LightWave also includes a full suite of artist-friendly tools that can be used to create an endless variety of 3D models, visual effects, and animation for all projects large and small.
Studios in Hollywood and around the world rely on LightWave to help deliver 3D content and visual effects under the most grueling deadlines. It is completely scalable—from single artist to teams—and its robust interchange tools and supported formats such as Alembic, Autodesk Geometry Cache, OBJ, Unity3D, ZBrush and more, make it easy to integrate into any 3D software pipeline.
LightWave 3D features a robust polygonal Sub-D Modeler with real world units, photoreal layer-based and nodal surfacing tools, instant rigging presets with or without weight maps, and a flexible object referencing architecture or ASCII scenes. It also offers procedural, nodal, flocking and keyframe animation tools, rendering with an integrated state-of-the-art renderer offering unlimited nodes, an industry-first Viewport Preview Renderer (VPR), and interactive shading, raytracing, DOF, motion blur, lighting and GI. The Bullet Dynamics feature in LightWave includes a fast and simple rigid- and soft-body Dynamics Engine. Support for industry standard formats include Alembic, FBX, Autodesk Geo Cache, Python, DPX, ZBrush GoZ, After Effects, MDD, and OBJ.
For more information about LightWave 3D software or the LightWave 3D Group, a Division of NewTek, Inc., please visit http://www.lightwave3d.com.
About NewTek
NewTek is transforming the way people create network-style television content and share it with the world. From sporting events, Web-based talk shows, live entertainment, classrooms, and corporate communications—to virtually any venue where people want to capture and publish live video, we give our customers the power to grow their audiences, brands and businesses, faster than ever before.
NewTek is privately owned and based in San Antonio, Texas.