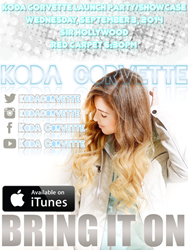 Koda has a unique sound that will resonate with teen pop culture immediately.
Los Angeles, California (PRWEB) August 13, 2014
Multi-platinum and Billboard Award winning music mogul, Andrew Lane, CEO of Drew Right Music, will initiate a red carpet showcase/launch party to celebrate the rollout of new teen pop music artist, Koda Corvette. http://www.kodacorvette.com The event will be held at S.I.R. Studios in Hollywood on Wednesday, Sep. 3, 2014 at 6:30 p.m. Koda Corvette will perform several songs including her debut single entitled "Bring It On." Many celebrities and music industry heavy hitters will be in attendance.
The track "Bring It On" is an uptempo pop track with zooming sound effects and stuttering drums. "Bring It On" benefits from ace production multi-platinum and Billboard Award winning music producer, Andrew Lane, but credits Corvette who played all of the instruments and came up with the harmonies as well as the lead vocals for the song. There is a lot to like about "Bring It On," and a lot to look forward to in Corvette's career.
The squelching beat and immediate hooks prove catchy but the best payoff comes when the percolating verse slides into the assured groove of the chorus creating a sparkling momentum daring the listener to get up and dance.
Corvette's sound and style is a mix between Justin Bieber/Austin Mahone and Chris Brown; an adorable female version of these artists, with massive potential for worldwide devotion by young audiences. She heavily incorporates the dancing styles of these artists and legends such as Micheal and Janet Jackson into her performance. Lane explains, "Koda has a unique sound that will resonate with teen pop culture immediately."
About Koda Corvette. Koda Corvette is a 15-year-old singer/songwriter/dancer/performer in Los Angeles, CA. Born and raised in Portland, OR, the young prodigy started singing and playing piano at the age of five and discovered her dream. She performed at many local talent shows, fairs, parties, and family events. She picked up songwriting at the age of nine, and then pursued dancing and acting the following year before moving up to Los Angeles to focus on her career. The only way is up for this fresh teen sensation. Koda Corvette's debut single is available on MTV (http://www.mtv.com/artists/koda-corvette/), iTunes, Amazon, Google Play, and other popular music distribution sites.
About Andrew Lane. Lane is a pop/hip-hop/R&B songwriter and music producer who has worked with artists such as the Backstreet Boys and Irene Cara. As a producer and songwriter, Lane has received gold and platinum accreditations for his work with R&B artists Keith Sweat, Speech and Mary J. Blige. He was also a major contributor to the platinum-accredited records High School Musical, Hannah Montana and Disneymania. Lane also won a Billboard Award in 2012. For more information on Andrew Lane, please visit http://www.DrewRightMusic.com.
All media and promotional inquiries welcome.