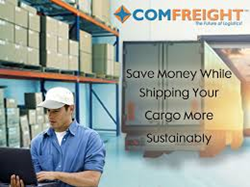 Quote truck loads? Well commercial freight shipping is now becoming a more open exchange as web based solutions like ComFreight seeks to even the playing field for smaller logistics companies.
Long Beach, CA (PRWEB) August 13, 2014
To Quote truck loads more direct shippers are looking to online solutions for competitive freight quotes and bids like ComFreight.com. Commercial freight shipping is becoming a more open exchange as web-based solutions and applications like ComFreight seeks to even the playing field for smaller logistics companies and freight carriers. Direct shippers are beginning to use platforms and apps like ComFreight to get competitive bids on their critical freight lanes and also source additional trucking capacity.
The new technology allows direct shippers to quote a truck load for free and get multiple competitive bids from carriers and freight brokers without having to pay any additional fees to make the connection. This is an opposing model to traditional freight marketplace models that have always taken an upfront fee for connecting the shipper to the trucking or logistics company or charged a subscription for their service to the shipper.
ComFreight only charges a small monthly subscription to Carriers and Freight Broker users in order to verify their legitimacy as a business and support the growing freight community and marketplace exchange for freight. This means shippers don't have to pay anything except the invoice or bill they get for moving their freight if they choose to dispatch a load or accept a bid from a shipping company they find on the website or web app.
In order to quote truck loads in the past, direct shippers would often use a handful of larger companies and would be limited to the pricing and savings available in the rest of the freight market. ComFreight allows these commercial direct shippers to get competitive freight quotes and bids the moment they post a freight shipment into the system, and are able to receive all bids and freight quotes in the form of an email alert with all of the parties information. ComFreight is the new shipper load board supporting the future processes for fulfilling truck load quotes and freight quotes for direct shippers.
The shipper can then close the bidding process after finding the rate or freight quote they are looking for or keep it going in order to see if a better rate from a more suitable carrier or logistics company is available. New tools such as internal reviews of carriers are also in the works for the web platform and ComFreight is growing stronger and stronger with mid-sized and larger commercial shippers.
ComFreight promises more advances for direct shippers like selective lane bids, longer term Request for Pricing options and tools for verifying truck load quote rates are competitive with current market conditions as they continue to grow their online freight marketplace and shipper load board.