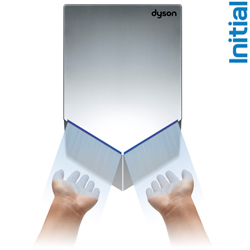 The Dyson Airblade V dries hands quickly and efficiently - drying hands in 10 seconds. This hand dryer unit uses two sheets of air, blown at 690 km/h, and angled at 115 degrees, scraping water off the hands like a windscreen wiper.
Cape Town, South Africa (PRWEB UK) 14 August 2014
The latest offering from the Dyson engineers is concentrated Dyson Airblade™ technology; a unit which has been designed to be 60% smaller than the original without compromising drying performance. Using Dyson's latest power dense digital motor, the Dyson Airblade V hand dryer dries hands quickly and efficiently. Hands are dry in a mere 10 seconds.
Conventional hand dryers use one column of warm air to evaporate water from both hands. Unreliable sensors often lead to intermittent drafts of dirty air. This can miss areas and leave wet patches. Hand rubbing is required, and most people simply give up before hands are actually dry. Wet hands are a breeding ground for bacteria. The Dyson Airblade V uses two sheets of air, blown at 690 km/h and angled at 115 degrees to separate hands and scrape water off the hands like a windscreen wiper, ensuring optimal hand hygiene.
James Dyson said, "Using complex computer modelling Dyson engineers have developed a high performance digital motor. The Dyson digital motor self-adjusts 6,000 times a second to maintain optimum efficiency to create high velocity sheets of air that dries hands quickly and hygienically."
Airblade™ technology: sheets of high velocity unheated air travel at 690kmh through apertures 0.8mm wide, quickly scraping water from hands like a windscreen wiper, leaving them fully dry in 10 seconds.
HEPA filters: The Dyson Airblade™ hand dryer passes bathroom air through a HEPA filter to remove 99.9% of bacteria before it's blown onto hands.
The latest Dyson digital motor: a power dense brushless DC motor, utilising a bonded magnet encased in a carbon fibre sleeve. It is one of the world's smallest and fully integrated 1600W motors. Using digital pulse technology, it accelerates from 0-90,000rpm in less than 0.7 seconds.
Capacitance sensors: Capacitance sensors create a weak electrical field between the user and Earth. The proximity of the user's hands distorts this field triggering the motor and Airblade™ technology. Remove hands and the field is restored – drying ends. No need to press a button.
The Dyson Airblade V is available from Initial Hygiene Services from 1 August 2014.
About Initial Hygiene Services:
Initial Hygiene is one of the leading hygiene solutions companies in South Africa. It provides innovative and environmentally responsible bathroom hygiene services solutions to large and small organisations across a range of business sectors including public administrations and schools, food and drink manufacturing, hospitality and leisure, medical and paramedical, construction, retail, services and transportation.
The range of Initial's Bathroom Hygiene services and supplies includes:

Hand washing and hand drying products and services
Feminine hygiene sanitary bins and sanitary waste disposal services
Bathroom hygiene products which include urinal, toilet hygiene and deep cleaning services
For more information on the Dyson Airblade V or to arrange for a free hygiene survey of your business, contact Rentokil Initial on 0800 77 77 88 or visit their website.
About Rentokil-Initial: The Rentokil Initial group specialise in pest control, hygiene services and interior landscaping for businesses across the globe. Using leading-edge, environmentally-friendly technology, their experts deliver a wide range of tailored services to businesses of all kinds. Rentokil Initial South Africa has operations in all major business centres across the country.
Notes to editors:
Dyson digital motor:

Dyson has over 100 engineers in its in-house motors team and has spent £100m researching and developing its digital motors over the past 15 years. Dyson continues to invest £10m a year into motor R&D.
The latest Dyson digital motor cost £26.9 million to develop. It was the result of seven years development.
Dyson digital motors are built in Dyson's high-tech £20m motor factory in Singapore. The West Park facility will produce 50,000 motors a week and covers an area of 36,000 square feet.
In its lifetime the digital motor inside a Dyson Airblade™ hand dryer can move around 162,000 m3 of air – enough to fill 26 million balloons.
Research, Design and Development: Dyson's new Airblade™ hand dryers are the result of nearly three years' intensive R&D by a team of 125 Dyson engineers and an investment of £40m.
Robotic and people testing:

Dyson engineers created over 3300 prototypes across the Dyson Airblade™ range and every component was subjected to hundreds of tests.
Dyson's unforgiving test team was tasked with finding fault and weakness and paying attention to detail – they simulated washing hands 213 million times.
Patents: there are 110 patents and patents pending on Dyson Airblade hand dryers using Airblade™ technology, and the latest Dyson digital motor has another 100 patents and patents pending.
Guarantee: The machine is guaranteed to last for 5 years.
Running costs: The Dyson Airblade V hand dryer is able to dry 17 pairs of hands for the price of a single paper towel. The Dyson Airblade V hand dryer costs £43 a year to run.
Facilities managers and architects can visit the Dyson Airblade website from February 5th 2013 to download CAD drawings and see technical data.