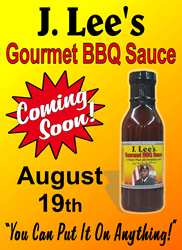 Fort Lee, VA (PRWEB) August 13, 2014
It is the one question The Sauce Team (TST) has heard more than any other since J. Lee's Gourmet BBQ Sauce Inc., became the first food or beverage company to feature an official military photo of a uniformed service member on the label. That service member being the founder of the sauce's recipe, James Lee. And that question being, "so when is your product going into the commissary?" Well that question now has a definitive answer, August 19, 2014. The Defense Commissary Agency (DeCA) will place J. Lee's Gourmet BBQ Sauce on the shelves of 66 commissaries, covering every location in the Southern and Central regions. J. Lee's will now go from being carried in 3 states, to 18 states with this partnership. This is an amazing accomplishment for a small veteran-owned and operated company that just recently celebrated its one year anniversary.
The Defense Commissary Agency, headquartered at Fort Lee, VA, operates a worldwide chain of over 245 commissaries. These commissaries provide groceries to the military personnel, retirees, and their families. The U.S. Commissary is considered a core military family support element. DeCA has been enhancing the quality of life for America's military and their families since 1989. J. Lee's Gourmet BBQ Sauce Inc., is proud to be partnering with an organization of such noble aspirations and great accomplishments.
The Sauce Team, made up of Helen J. Lee, Owner/C.E.O.; James Lee, Product Founder; Chief Master Sergeant (retired) Curtis A. Jennings, Public Relations Manager; and Mr. Ashante Vereen, Sales and Marketing Director; pride themselves on tireless Hard Work and Dedication. The team has had multiple product tastings at every store that carries J. Lee's. The tradition will carry on with the commissaries. The first stop will be Keesler Air Force Base, in Biloxi, MS; the home of the J. Lee's Gourmet BBQ Sauce Inc., corporate office. TST will kick things off at Keesler on the 19th of August. The next demonstrations will be held at NCBC, a Naval Base in Gulfport, MS on the 21st of August; Hurlburt Field Air Force Base in Florida on the 22nd of August; Eglin Air Force Base in Florida on the 23rd of August; and NAS (Naval Air Station) in Pensacola, Florida on August 24th. The September travel schedule has not been posted but will be updated regularly via social media (facebook and twitter) and the J. Lee's Gourmet BBQ Sauce website: http://www.jleessauce.com.