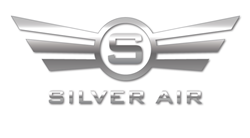 Santa Barbara, Calif. (PRWEB) August 13, 2014
Silver Air, the leading pure charter management company within the business aviation industry, recently signed a new owner-partner continuing the expansion of its charter offerings by building a fleet of high-quality aircraft owned by long term business partners.
SG, LLC, a Santa Barbara-based global advisory firm, recently approached Silver Air to manage its Gulfstream GV, one of the most sought after private jets in the world. The GV's ultra-long range capabilities complement Silver Air's exclusive fleet of luxury aircraft, expanding its reach worldwide.
"SG manages and oversees various luxury assets, including luxury real estate, commercial properties, yachts, and aircraft. We decided to partner with Silver Air based on their established client base, profound knowledge of the market, and industry expertise," said Tim Pinkevich, Partner, SG, LLC. "Silver Air allows us to minimize the operating expenses while improving and maximizing the charter revenue."
"Silver Air manages the best-in-market aircraft along side high-end owner-partners like SG, LLC, and maintains clear communication to ensure the client knows exactly what is happening with their investment," said Jason Middleton, Silver Air co-founder and CEO. "Silver Air's transparency translates into confidence that the business of owning a private aircraft is on track with defined objectives. This is why we're seeing growth – and it is also why we're being selective in our growth."
Silver Air's Gulfstream GV is based in Santa Barbara, Calif., and extends the company's charter capabilities around the globe, including Asia and Europe, with world-class comfort, performance, and safety. It features a full service cabin and galley, flight attendance service, and conference space. There is seating for up to 14 passengers or a sleeping configuration for eight. Twin turbo-fanned BR710 engines, designed by Rolls Royce and BMW, produce a top cruising speed of 670 mph and a range of up to 5,800 nm.
More information at http://www.SilverAir.com.
About SG, LLC:
The firm provides high net-worth clients with unique solutions to their complex financial needs through five divisions: Lending, Insurance, Operations, Alternative Investments, and Asset Management. Unlike most companies in the financial services industry, SG, LLC does not isolate any one part of a client's balance sheet. Each of the firm's divisions mirrors the five elements that encompass the financial ecosystem of a high net-worth client. To date, SG, LLC has facilitated over 940 Million USD in completed transactions through its Lending, Insurance, and Operations Divisions, and has directly invested over 258 Million USD through its Alternative Investments and Asset Management Divisions.
About Silver Air:
Silver Air, the leading pure charter management company within the business aviation industry, delivers a transparent, owner-advocate approach to management, creating valuable partnerships with private jet owners. Founded in 2008, the company is headquartered in Santa Barbara with more than a dozen aircraft based throughout California. Silver Air manages a comprehensive fleet of luxury aircraft from light to long-range heavy jets and a global network operating around the clock, 24-hours-a-day.