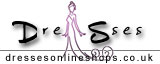 (PRWEB) August 12, 2014
DressesOnlineShops.co.uk, a leading supplier of women's dresses, is excited to announce its best-selling bridesmaid dresses are available.
On the website of DressesOnlineShops.co.uk, customers can see the best-selling bridesmaid dresses from DressesOnlineShops.co.uk. In addition, all the dresses are with new discounted prices now. All online customers can get a discount, up to 69% off.
The CEO of DressesOnlineShops.co.uk, said, "We list the top 5 of the best-selling bridesmaid dresses on our website, in the hope of helping customers to make a shopping decision more efficiently. All the dresses have received many positive comments from our customers. Now, we hope to recommend them to our customers to expand our market share."
DressesOnlineShops.co.uk is selling thousands of women's dresses on its website, including wedding dresses, formal dresses, evening dresses, cocktail dresses, and so on. Most of the dresses are available in 28 colors and available from size 2 to 16. They have common characteristics: rich fabrics, fine tailoring, meticulous production.
"Our commitment to customer satisfaction and service are DressesOnlineShops.co.uk's top priorities, and we continually build on that concept," said, the CEO of the company, "We will stay focused on our product selection, key differentiators like free shipping and 24/7 customer service. The UK market is very important for us, and we have received a lot of positive reviews from our customers. We want to help dress lovers worldwide to get what they really want."
About DressesOnlineShops.co.uk:
DressesOnlineShops.co.uk is a leading dress company offering a wide range of fashionable products—all its outfits are available in various sizes. The company is now doing its business in many parts of the world, including Australia, the UK, the US, Canada and so on. Now, it focuses on the expanding the online market.
More details about the reliable supplier's new items can be found at: http://www.dressesonlineshops.co.uk/.