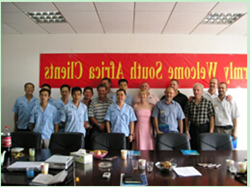 (PRWEB) August 12, 2014
When it comes to company overseas expansion, people often feel puzzled. Guangdong FODAY Automobile Co.,LTD is an excellent player that builds its production lines successfully in foreign countries.
FODAY's business plans are carried out through CBU and CKD (SKD) export of spare parts, which has both pros and cons.
CBU has its own mobility and flexibility, but it lacks periodicity and continuity. Those who want to help their overseas clients establish production lines can refer to waht FODAY does.
Collecting And Gathering Information On Customer Base
To help overseas clients to establish their own production lines, people need to collect customers' basic information (including religious rituals, climatic conditions and official languages and so on) and know well about their requirements. Also, it is necessary to customers' experience in the automotive industry (including their capability of providing production sites (plant size), technical reserves and management experience). Also, it is better to understand customers' product positioning and their desired level of technology, etc.
After taking such kinds of actions, FODAY Auto helps customers to build production lines and design input conditions.
Discussing And Designing Program Types
Setting new production line design is a complex process which involves a prerequisite for program design, technical requirements for product introduction, process layout and project management. Accounting is one of the most important things during this program. It is wise to gain a good knowledge of customers' expectation, the median length of their production lines and planning parameters.
Implementation Of Design Solutions
FODAY Auto's advanced production technology is involved when implementation process is under way. It requires a lot of technology output (such as product technical documentation, quality control system documents, and even output equipment). The whole program consists of refinement of the production line planning, operation management, basic hardware debugging and maintenance, daily operation and management of CKD factory production, quality control and monitoring of the implementation of the system and so on.
At the same time, FODAY sends out its own engineers to provide basic training for its customers in order to ensure the smooth implementation of the program.
Production lines Trial and Inspection
Trial production must be implemented after the post-design programs is finished. FODAY sends out a large number of experienced engineers to verify the entire design of CKD production lines. By the establishing a series of measures to guide the system specifications, operating procedures, repeated training, FODAY wants to make sure that the production lines are in a good running condition. The company is willing to help its customers to experiment the production line capacity and establish a long-term cooperation with them.
Postscript
FODAY has gained a lot of precious experience in assisting overseas customers to establish its own production lines. The company has gradually formed its own set of methods of operation for exporting CKD (SKD) SUVs and Pickups. It holds strong believe that its overseas business will become better and better. That will attribute to its "going out" strategy and finally implement foreign investment.
Guangdong FODAY Automobile Co.,LTD
http://www.fodayauto.com
FODAY Auto We Chat No.: fodayauto
Email: fodayglobal(at)163(dot)com