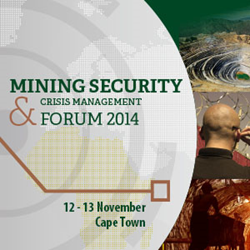 It's an IRN Summit!
London (PRWEB UK) 13 August 2014
In 2013, the mining industry and the world were deeply shocked by the deadly attack on the Areva operated Somair mine in Niger. One person died and fourteen were injured when two suicide bombers disguised in military attire drove their car into the Areva uranium mine in Arlit. The attack is believed to have been masterminded by Mokhtar Belmokhtar and his brigade the "Signatories of Blood" who were also responsible for the attack on the In Amenas Gas plant in Algeria several months earlier. The forum will also contain a case study that will analyse the terrorist group and their activities in Africa, and will also show the lessons to be applied to security sites in West Africa.
IRN will host the Mining Security & Crisis Management Forum in Cape Town, South Africa, in a highly discrete environment, where speakers will examine the growing terrorism threat which is presently affecting the continent of Africa, from West to East. On the morning of the first day, the Associate Director Global Risk Analysis from the speaker sponsor Control Risks will deliver an overview of Terrorism and extremist activities in Africa, analysing the threat posed by extremists Boko Haram, Al Shabaab, ASIQ, JAMBS and Ansaru across West and East Africa.
Confirmed speakers of the forum include amongst others the Head of Security and Operations from Antwerp World Diamond Centre (AWDC), the Security Manager from Debswana Diamond Co., the Security Manager from Gemfields PLC, the Crisis Manager from Vale Brazil, the Regional Security Investigations Manager from Newmont Mining and the Security Analyst from Vale Mozambique, to name a few.
More information about the forum is available on the website: http://www.miningsecurityforum.com.