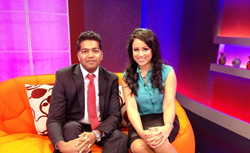 Keep updated on changes in law and seek legal advice so that you know your rights.
London, United Kingdom (PRWEB UK) 12 August 2014
Vicash Ramkissoon, who was named as a "Highly competent Solicitor" by Legal 500 2013 featured on Zee Companion to discuss the impact of the Immigration Act 2014 on appeal rights Visitor Visa applications for relatives Settlement issues for parents coming to UK to establish a business.
Vicash also discussed the recent court decision maintaining the earnings threshold for those seeking to bring their spouse to the UK and further challenges to this decision. Vicash answered viewers calls on the live show and discussed various topics raised by callers including visitor visa applications for relatives and marriage applications. He also discussed coming to UK to establish a business and settlement issues for parents.
Vicash explained that visa applications need to be prepared thoroughly ensuring that all supporting documents are provided to ensure a greater chance of approval.
Vicash said his "biggest piece of advice" is to" keep updated on changes in law and seek legal advice so that you know your rights."
Vicash said of his experience on the program, "It was great experience to be invited by Zee Companion as a guest speaker as part of the channel's immigration segment The Live Call. It enabled me to discuss viewers immigration issues and share an insight of how the law relating to immigration operates from a practical perspective."
Zee Companion is a Live show "by the people and for the people." Viewers can call in to discuss their problems or issues faced, share any causes they are passionate about, discuss any topics that interest them and can also get guidance from a panel of renowned experts. Presented in an "interesting and engaging manner," Zee Companion is a live and interactive show screened on weekdays from 1.30 pm and in a half hour show at 6.30 pm with a guest.
The topics covered will from relationships, health & well being and law to social issues, careers and education and any other issues faced by the South Asian viewer. The eminent panel of experts as well as guests will help viewers find the best possible answers. Viewers can call, email, or post on Facebook or Twitter to give their views or speak directly to the guests.
Vicash appeared as part of the channel's program Immigration A to Z.
About Duncan Lewis
Duncan Lewis, established in 1998, is the largest civil legal aid practice in the UK and one of the country's fastest growing firms of solicitors, serving both corporate entities and private individuals from offices across London and throughout the UK. A recommended leading law firm by Law Society Lexcel, Legal 500; Duncan Lewis employs over 500 members of staff and was the first law firm to achieve the Investors in People Gold Quality Standard Mark in 2009. Representing over 25,000 clients per year, the company has an excellent reputation in the Administrative Court, High Court and Court of Appeal in the Immigration, Public law and Family/Child Care jurisdictions.
Established areas of law are: business immigration, child care, civil liberties, clinical negligence, community care, crime and fraud, dispute resolution, debt and insolvency, employment, family and divorce, housing, asylum and immigration, litigation, mental health, personal injury, prison law, professional negligence, public law and administrative law, regulatory matters and welfare benefits.