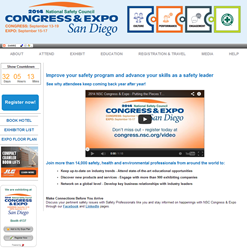 Columbia, MD (PRWEB) August 13, 2014
a2z, Inc., the Maryland-based event management software company, announces that the National Safety Council (NSC) is leveraging a suite of ChirpE solutions from a2z to offer time saving and planning tools to attendees and exhibitors for the 2014 NSC Congress & Expo. This annual event is designed for safety professionals to learn from industry leaders as they network and develop new skills. This year, the annual event will take place September 13-19, 2014 in San Diego, CA.
The ChirpE eBooth Promotion Widget (eBW) offers the 2014 NSC Congress & Expo exhibitors an online tool for engaging clients and prospects before the event starts. It allows exhibitors to promote their eBooth on their websites so that attendees can access their eBooth information, the event website, and register for the event with ease. Last year, usage for this event was remarkable with many exhibitors increasing their event ROI and collecting pre-show leads. Exhibitors can access their personal widget from the 2014 NSC Congress & Expo exhibitor console.
In addition, NSC is utilizing the ChirpE Mobile App Solution to enhance the attendee experience. When attendees download the mobile app, they will see many features designed to help them be more productive while at the 2014 NSC Congress & Expo. Attendees can search for exhibitors by keywords, tag their favorite exhibitors, and use the walking map feature to find these exhibitors on the Expo floor. In addition, attendees can build a personalized itinerary including their selected sessions and scheduled meetings as well as receive real-time Expo announcements. The 2014 NSC Congress & Expo mobile app is available for iOS and Android devices as well as all internet-enabled smartphones.
The 2014 NSC Congress & Expo is the largest annual event for safety, health and environmental professionals. This annual event attracts more than 14,000 decision makers, end users and distributors from a wide variety of industries including manufacturing, construction, petrochemical and utilities, which in turn creates a great opportunity to network with experts and prospective clients. Also, this event offers educational opportunities to learn about new industry-leading technology along with trends and best practices led by verified safety experts.
To learn more about NSC Conference & Expo, please visit http://congress.nsc.org.
About a2z
a2z, Inc. provides powerful web-based event management tools that grow your show by increasing and accelerating booth sales, helping boost revenue, and enhancing engagement and value for everyone. a2z, Inc. powers more than 850 leading events every year. Our clients benefit from increased connectivity with their audience via an improved website for their attendees and exhibitors and both web-based and native mobile app solutions. a2z offers three platforms as one integrated solution: Expo & Conference Management, Networking & Lead Management, and ChirpE Mobile- which includes our web-based and native mobile apps for smart phone and tablet device.
About the National Safety Council
Founded in 1913 and chartered by Congress, the National Safety Council is a nonprofit organization whose mission is to save lives by preventing injuries and deaths at work, in homes and communities and on the road through leadership, research, education and advocacy. NSC advances this mission by partnering with businesses, government agencies, elected officials and the public to make an impact where the most preventable injuries and deaths occur, in areas such as distracted driving, teen driving, workplace safety and beyond the workplace, particularly in and near our homes.