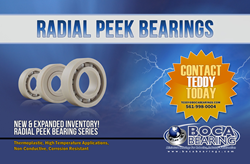 ...very popular in medical, pharmaceutical, and food processing industries.
Boynton Beach, Florida (PRWEB) August 14, 2014
The Boca Bearing Company is proud to announce the expansion of their line of PEEK Radial Hybrid Bearings. PEEK is a semicrystalline thermoplastic with excellent mechanical and chemical resistance properties that are retained in high temperatures.
PEEK Bearings are washdown safe, offer great chemical resistance, have very low moisture absorption, and are unaffected by continuous exposure to hot water and steam. Peek bearings are often used in the food and beverage industries in additional to medical applications. PEEK is corrosion resistant, and non-magnetic.
The composition of the raw materials used for the production of the PEEK natural stock shapes complies with the directives of the European Union and with the American FDA regulations concerning plastic materials intended to come into contact with foodstuffs. These features, added to its excellent sterilisability by means of steam, dry heat, ethylene oxide and gamma irradiation, make this grade very popular in medical, pharmaceutical, and food processing industries.
http://www.bocabearings.com/bearing-types/radial-peek-ceramic-hybrid-bearings
The Boca Bearing Company is one of the most trusted names in ceramic bearing technology. The reduction of rolling resistance and conservation of energy has been our hallmark since 1987. Boca Bearings never has a minimum order and is a one stop shop for everything from prototyping to production. Whether you are looking for affordability, longevity or high speed, Boca Bearings has just the bearing for you. Wholesale discounts are available upon request.