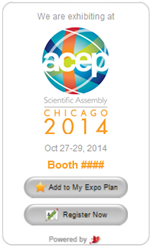 Columbia, MD (PRWEB) August 14, 2014
a2z, Inc, the Maryland-based event management software company, is proud to announce the American College of Emergency Physicians (ACEP) presents the ChirpE eBooth Promotion Widget (AAW) to exhibitors for an opportunity to increase their engagement with attendees at the upcoming event ACEP14 Scientific Assembly – the largest, most prestigious show in emergency medicine.
The ChirpE eBooth Promotion Widget is a powerful yet easy-to-use online tool that enables exhibitors to promote their event participation at ACEP14 on their own websites. Visitors to the exhibitors' websites can access the exhibitor's eBooth profile, the event website, and the event registration page – all with a single click on the widget. Exhibitors can then collect a pre-show lead list of all the known visitors and interact with prospective clients. The eBooth Promotion Widget comes with a powerful dashboard that enables exhibitors to monitor and evaluate their ROI from the widget.
Exhibitors can easily add the widget to their websites by simply copying the widget code from their exhibitor console on the event website and then add the widget to a prominent page on their website.
ACEP14 Scientific Assembly will take place October 27-30, 2014 in Chicago, IL. This event attracts thousands emergency medicine professionals. ACEP14 offers attendees an opportunity to participate in advanced educational programs as well as view exhibits that will be an extension of the educational experience.
For more information about the conference, please visit http://www.acep.org.
About a2z
a2z, Inc. provides powerful web-based event management tools that grow your show by increasing and accelerating booth sales, helping boost revenue, and enhancing engagement and value for everyone. a2z, Inc. powers more than 850 leading events every year. Our clients benefit from increased connectivity with their audience via an improved website for their attendees and exhibitors and both web-based and native mobile app solutions. To fulfill our goal of developing quality solutions that help save money and meet your needs, a2z offers three platforms as one integrated solution: Expo & Conference Management, Networking & Lead Management, and ChirpE Mobile - which includes our web-based and native mobile apps for smart phone and tablet devices.
About ACEP
Founded in 1968, ACEP today represents more than 32,000 emergency physicians, residents and medical students. The American College of Emergency Physicians (ACEP) is the oldest and largest national medical specialty organization representing physicians who practice emergency medicine. With more than 32,000 members, ACEP is the leading continuing education source for emergency physicians and the primary information resource on developments in the specialty.