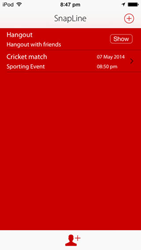 An Alaskan launches his dream on iTunes Store.
Washington DC (PRWEB) August 19, 2014
SIMpalm, a top mobile app development company in USA, launched Snapline App on iTunes Store for James McDermott. Snapline is the ultimate photo roadmap app, envisioned by James McDermott, a vivid mobile enthusiast and innovator. Snapline App has been specifically designed for iOS 6.0 compatibility and iPhone 5 support. The app is currently available to download on the iPhone app store.
Snapline App is simple to use and enables users to take pictures of their most important life events like outings, gatherings, weddings, birthdays and leisure times. This latest iPhone App tracks life's most essential occasions. Snapline App was developed with the idea not to miss the beautiful memories of the picnics, outings, parties or any event. Snapline lets users create an event, select a length of time for the event and remind to take pictures during selected timeframe. Not only does the App capture photos, it also enables users to set or write a description of the pictures. The App guides users along a journey of events so that they can be a part of the action.
"Considering that I'm in Alaska and SIMpalm is on the East Coast, there was never a problem with communication. I would hear from SIMpalm within 12 hours of sending an email. If I sent them something they'd send it right back. I'd hear from them within minutes sometimes. Developers covered everything exactly how I wanted. They gave me sample versions when I was testing it. We were focused as a team on one unit," said James McDermott, founder of Snapline.
The app will give local notifications, and save the event's data with custom description and photos in the local database. Snapline also has the feature of setting reminders for each event so that user can receive local notifications at the correct time. The application gives users the option of sharing the events with other user/friends/family through Facebook, email and messages.
About SIMpalm
SIMpalm was founded in 2009 to bring more mobility in the world. SIMpalm design, develop and deploy mobile applications and responsive web for its clients. SIMpalm provided end to end services for mobile app/web including design, development, testing and deployment. It has highly skilled iPhone App Developers, Android App Developers, HTML5 developers to build mobile apps for any industry vertical. It also builds cloud based backend for mobile apps on Parse, Amazon AWS, LAMP and Windows Azure. Not only native apps, it builds app and web using cross platform technologies like HTML5, Sencha Touch, Jquery, Titanium, Xamarin, Angular JS, Backbone JS and Appprecessor. We develop solutions for Startups, SMEs, Enterprises and Government organization. Some of its major clients include Flextronics USA, Forte Payment Systems, Bed Bath and Beyond, Blue Cross Blue Shield and Cantada.