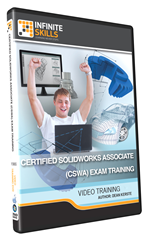 Learn Certified SolidWorks Associate (CSWA) Exam Training at your own speed.
(PRWEB) August 13, 2014
Software training firm Infinite Skills Inc. last week introduced its "Certified SolidWorks Associate (CSWA) Exam Training Tutorial," a course designed for experienced SolidWorks users, focusing on the objectives for achieving this entry-level certification in using the popular computer aided design (CAD) software.
SolidWorks is a leader in the 3D CAD industry, currently used by more than 2 million engineers and designers worldwide. The program uses a parametric, feature-based assembly system for building mechanical models, allowing users to create and assemble parts into an overall design.
Infinite Skills' "SolidWorks CSWA Certification Exam Preparation Training" follows along with SolidWorks' stated objectives for achieving the certification which provides documentation of basic competencies, setting certification holders apart from the crowd in a competitive job market.
Certified SolidWorks Associate (CSWA) Exam Training Tutorial - Streaming
Course author Dean Kerste is a college professor with more than a decade of experience in industrial design, and more than twenty years of experience as a professor in a mechanical design technology program. After working as a CAD operator and systems administrator, Kerste began pursuing a career in academics. He holds a bachelors in industrial design and a doctorate in higher education, along with several advanced certifications from SolidWorks, including the CSWE and educator certifications.
After overviewing the certification process and the exam itself, Kerste starts with part modeling and modification, providing an example test question, and then guiding students through exercises that demonstrate the essential concepts of creating a part at the basic, intermediate, and advanced levels.
The course then moves into assembly modeling, again providing an overview of assembly modeling exercises, and demonstrating essential skills of building an assembly, adding a mate, and performing modifications.
Finally, Kerste devotes a chapter to drawing skills, first overviewing drawing competencies, and then taking students step-by-step through drawing in each of SolidWorks' 11 view-types.
"In my teaching career, I have administered the CSWA exam to over 200 students," Kerste says.
"Based on my experience with these students, I have developed an understanding of what they need to know about the SolidWorks skills and concepts and the test itself. I am proud to offer this course to help others get certified."
Free demo videos and a full list of course contents can be found on the "Certified SolidWorks Associate Exam Tutorial" training page on the company website.
http://www.infiniteskills.com/training/certified-solidworks-associate-cswa-exam-training.html
Infinite Skills offers its Certified SolidWorks Associate (CSWA) Exam Training either as a DVD or a direct download from the company website at a retail price of $49.95, or as part of its subscription streaming service available at a rate of $25 per month. Though the compatibility of programs varies, all Infinite Skills titles and formats work on both Mac and Windows operating systems, and shipping is available around the globe. Additionally, Infinite Skills tutorials are supported by project files which correspond to examples in the videos.
About Infinite Skills Inc.
A leader in the field of software training, Infinite Skills designs its courses on a task-oriented model, teaching complex skills by providing hands-on examples and guiding users as they carry out essential functions. Infinite Skills offers a wide range of software titles available as DVDs, digital downloads, and in iPad editions. Infinite Skills now offers a subscription service, providing access to all its training content for a monthly fee, keeping with company's aim of delivering professional training to customers anywhere they want to learn.