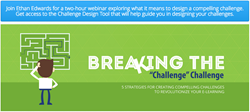 A good instructional challenge should actually be an incentive to invest in the interaction rather than a deterrent.
Minneapolis/St. Paul, MN (PRWEB) August 13, 2014
Allen Interactions Inc., an internationally acclaimed custom learning design, development, strategic consulting, and technology firm, announces their next premium training webinar for e-learning professionals. The webinar, Breaking the "Challenge" Challenge, provides instructional designers wanting to break the molds of their current e-learning projects with techniques and strategies to employ the challenge aspect of Allen Interaction's successful CCAF model of instructional interactivity.
Ethan Edwards, Chief Instructional Strategist at Allen Interactions, will explore what it means to design a compelling challenge. Challenge can be built into an interaction following a number of strategies that are far more significant than simply making a question "difficult" or by simply creating obstacles. On Tuesday September 9, 1-3 pm Central, Ethan Edwards invites e-learning professionals to discuss five powerful strategies to guide the design of an interaction's challenge, explore how the strategies have been implemented in actual project work, and have a live "design session" to show how these ideas might be implemented in a new design.
"A good instructional challenge should actually be an incentive to invest in the interaction rather than a deterrent," says Edwards. "It is my hope that this webinar will help guide instructional designers to harness the power of good design, allowing them to create truly engaging challenges for their learners, resulting in meaningful results."
A Special Bonus for Participants:
If registrants enroll 5 or more days before the webinar, they will have the opportunity to submit a design challenge. Ethan will choose examples for the design exercise from those problems submitted. Just think, if your design challenge submission is selected, you'll get a great head start on your own project!
About Ethan Edwards
Ethan Edwards draws from more than 25 years of industry experience as an e-learning instructional designer and developer. He is responsible for the delivery of the internal and external training and communications that reflect Allen Interactions' unique perspective on designing and developing meaningful and memorable e-learning programs. Edwards is the primary instructor for ASTD's e-Learning Instructional Design Certificate Program. In addition, he is an internationally recognized speaker on instructional design and e-learning, and has written several white papers on creating effective e-learning. Ethan is a primary blogger for Allen Interactions' e-Learning Leadership Blog.
About Allen Interactions Inc.
Allen Interactions creates powerful custom learning experiences that help achieve organizational business goals by improving performance one interaction at a time. With 20 years of deep experience and expertise in instructional design, technology, creativity, process, and project management, Allen Interactions consistently achieves positive business impact. For more information visit: http://www.alleninteractions.com
In 2009, the Company established Allen Learning Technologies to create a revolutionary, cloud-based authoring and publishing system, ZebraZapps, which allows developers and non-programmers to create rich interactive media applications, as well as share, publish, and sell objects or entire applications. For more information visit: http://www.zebrazapps.info