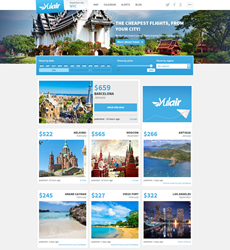 NYC-Stockholm flights for just $323, among many more low air fares.
Montreal, QC (PRWEB) August 13, 2014
Yulair.com casts its net over the Big Apple adding its 5th city of focus for sourcing cheap flights to all over the world. New York City international airports join Yulair's roster that includes of Toronto, Vancouver, Montreal and Quebec City.
Founder and CEO Frédéric Prévost-Lebeuf and his team see the New York launch as the first of many US cites in scope for 2015–2016.
Live just 7 days, Yulair NYC comes out of the gate posting round-trips to Copenhagen for $366, San Francisco for $254, Stockholm for just $323 among many more.
Badges boasting the best getaways pepper Yulair's homepage (http://nyc.yulair.com) and enticing even the most budget conscious traveller to the adventure of his or her dreams. There are currently 45+ deals from the NYC airports and this number is growing quickly.
Yulair posts daily deals for round-trip flights around the world. Differentiating from other discount travel sites, Yulair concentrates on cheap rates leaving from one city at a time — defaulting its search filters and leaving the destination open. Being flexible, acting fast (as rates often disappear and sell out within days) and a sense adventure is all that's required to use Yulair.
About Yulair:
Entrepreneur and international graffiti photographer Frédéric Prévost-Lebeuf launched Yulair after discovering his hidden talent for finding cheap airfares. Travelling the world, Lebeuf has captured graffiti pictures in a large number of cities, always travelling with the lowest possible air fares or mistake fares. What began as a need to upload editorial content on his graffiti website, BombingScience.com, has now turned into a medium in which Lebeuf and his team of experts share their expertise and knack for finding cheap travel.
Today Yulair averages 100, 000 unique monthly visitors and has a social media following of over 80,000.
###
Contact:
Yhoanis Obando
Chief Communications Officer
e. media(at)yulair(dot)com
http://www.yulair.com