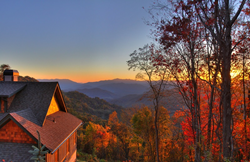 Uniquely Local Food Crawl in Waynesville
Asheville, North Carolina (PRWEB) August 13, 2014
Dozens of local restaurants in one of the best mountain towns in North Carolina will soon share special small plate menus and unique homemade drink recipes. On two consecutive weekends, August 21-24 and August 28-31 2014, Buy Haywood is holding its "Uniquely Local Food Crawl" in Waynesville giving foodies the opportunity to sample the best of the Great Smoky Mountains culinary scene.
The participating restaurants are all part of the increasingly popular farm-to-table Haywood County dining movement. Each brings locally- grown fresh foods to your plate in mouthwatering meals. As the name implies, the farm to table movement celebrates preparing food with local ingredients, directly from the field to your table. The movement is popular and important because food straight from the field tastes better. In addition, local ingredients are also better for the environment as less travel means less energy consumption and less pollution.
Food destinations on the crawl include:

Breaking Bread Cafe
Coffee Cup Cafe
Copper Pot & Wooden Spoon
Frankie's Italian Trattoria
Frog Level Brewing Company
Frog's Leap Public House
J Arthur's Restaurant
Kanini's
Haywood's Historic Farmers Market
Pasquale's Mediterranean-Italian Restaurant
The Patio Bistro
The Mahogany House Art Gallery & Studio
Sid's on Main
The Strand at 38 Main
Waynesville's Original Tailgate Market
Buy Haywood's vibrant community of agripreneurs are also offering selection of treasured prizes including art, gift certificates, jewelry and more. Savoring the food in Waynesville is enough to whet your whistle, but this region also features some of the country's best private mountain communities.
It's a great place to visit in any season. Whether buyers are looking to explore the mountains during its mild summers, gaze at the natural splendor of fall leaf changes, or view snow covered mountains during the winter and hit the slopes, the town offers a mountain lifestyle for any preference. With its close proximity to the natural wonders of The Great Smoky Mountains National Park, Waynesville is truly a place of recreational opportunity.
Nearby best private mountain communities begin with Balsam Mountain Preserve. Whether folks are an golfer, avid hiker or if just love a laid back mountain lifestyle, Balsam has it all.
As a huge low-density neighborhood, only 400 families will call Balsam home at the project's completion. That's an average of 12 acres per family of protected mountain paradise spread across 4,400 acres and 3,000 acres have been preserved as a conservation easement. Balsam Mountain Trust is actively engaged in the community's nature management and provides education and adventures at the Nature Center. Amenities include an award winning 18 hole championship golf course, award winning equestrian center, wellness center, miles and miles of walking trails and The Boarding House Restaurants reflecting pure mountain elegance.
A more intimate private mountain community nearby is Sunset Falls at Bald Creek. The jaw dropping mountain views are breathtaking from the mountain peeks. This neighborhood includes large estate-size lots and homes built by some of the area's leading custom homebuilders. Sunset Falls at Bald Creek provides privacy and beautiful views of Crabtree Mountain and at night, the twinkling city lights of both Waynesville and Maggie Valley below. Amenities include streams and waterfalls.
Another popular Waynesville neighborhood is Laurel Ridge Country Club. The development began in 1986. In June 2009, Laurel Ridge Country Club opened a new 19,000 square foot clubhouse, which is now the social hub of the community. Classic timber frame architecture reflects vaulted ceilings, massive chandeliers and expansive windows showcasing long-range views of the golf course. The golf clubhouse offers formal and casual dining inside and out from May through October. Amenities include an 18 hole championship golf course, clubhouse, swimming pool and tennis courts. Membership is optional.
Real Estate Scorecard believes the town of Waynesville is one of the best mountain towns in North Carolina to visit in any time of year. In August, foodies have a special incentive to experience the finest of farm-to-table Haywood County cuisine over two consecutive weekends.
About Real Estate Scorecard:
Real Estate Scorecard writes unbiased real estate reviews providing in-depth information about popular gated communities in Florida, Georgia, North Carolina, South Carolina and Tennessee, all in an effort to help people discover where to retire in the Southeast.
Website: http://realestatescorecard.com