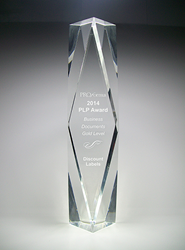 'A big thanks to Proforma for recognizing us with the Gold Vendor Award,' says Mike Gore, General Manager at Discount Labels. 'We are honored to receive this award and strive to offer products and solutions to help Proforma owners grow.'
New Albany, IN (PRWEB) August 14, 2014
At their Annual Awards Dinner in Grapevine, Texas last month, Proforma recognized outstanding vendors who have contributed to their growth and success. Discount Labels proudly accepted the Gold Vendor Award in the Business Document category for the second year in a row.
"A big thanks to Proforma for recognizing us with the Gold Vendor Award," says Mike Gore, General Manager at Discount Labels. "We are honored to receive this award and strive to offer products and solutions to help Proforma owners grow."
Proforma awards Gold, Silver and Bronze Vendor Awards in five categories: Business Documents, Promotional Products, Apparel, Commercial Printing, and Value Added Services. Owners collectively voted on and selected Discount Labels as its top supplier in the Business Documents category based on excellent customer service, overall quality and competitive pricing.
About Discount Labels:
Discount Labels specializes in die cut labels, premier labels, durable labels, UL labels, variable data labels, printer labels, magnets, stamps and promotional products for every industry including automotive, construction, healthcare, manufacturing, restaurant and retail. Discount Labels sells through the largest authorized label distributor network in the U.S. and Canada. Eligible dealers are active in one of the following industries: printing, graphic arts, specialty advertising, business forms, packaging and shipping, signs, banners, trophies, rubber stamps, or office products. Established in 1965, Discount Labels has grown to be America's largest wholesale label supplier. Find more information at http://www.discountlabels.com and visit us on Facebook, Twitter and Google+.