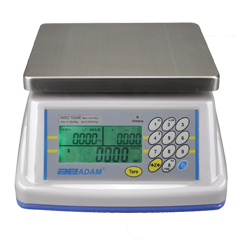 Scales and balances are valuable tools used in all aspects of the food cycle from initial harvesting to processing to food service.
Danbury, CT (PRWEB) August 13, 2014
Adam Equipment, a global manufacturer of professional weighing equipment, will be displaying scales and balances for food testing, processing, production, sale and service at booth 8216 of the Natural Products Expo East 2014. Nearly 24,000 visitors are expected to attend the show at the Baltimore Convention Center, Sept. 17-20, which features more than 1,200 exhibitors.
Scales and balances are valuable tools in all aspects of the food cycle–during harvest, processing, packaging, service and sales. In research and development, weighing equipment is critical for maintaining sample integrity. When food products enter the processing phase, scales, balances and moisture analyzers facilitate quality control. They can help to ensure freshness and quality of the product during packaging, and aid in determining proper expiration dates. Weighing equipment is invaluable for food service and sales, as it can measure produce at farm stands, weigh lunch meat at a delicatessen, or verify quantities of ingredients mixed into a batch of cookie dough at a bakery.
Products on display at the Adam booth will include: GBK bench checkweighing scale, WBW washdown scale, Warrior washdown scale, WBZ washdown retail scale, LBK weighing scale, CPWplus bench and floor scale, Highland portable precision balance, Dune compact balance and PMB moisture analyzer.
With simple operation and rapid response time, PMB moisture analyzer offers an easy way to measure moisture content in foods, helping production workers check contents of mixtures and batches. The automatic test-setting function enables easy recall for frequent testing of the same items without additional user programming. Users can log or print information, communicate with computers, or transmit and save test programs and results using the USB and RS-232 interfaces.
The GBK bench checkweighing scale offers durability and value for batching during food production. The large, grade 304 stainless steel pan can be removed for easy cleaning. Features include dynamic weighing for measuring liquid ingredients, checkweighing to monitor the final product, and automatic accumulation to provide totals for weight readings. Capacities on the GBK are between 6-150kg, while readabilities range from 0.1-50g. GBK models are available with NTEP, Measurement Canada, NRCS and EC type approvals.
The WBW washdown scale is well-suited for portion control during production of single-serve packages of snacks and desserts, mixed-serving meals or for reduced-calorie portions. WBW features capacities from 2-16kg and readabilities of 0.2-5g. The scale offers a large stainless steel pan and IP66-rated housing, meaning it is sealed to protect against moisture and dust and is easily hosed down in compliance with sanitation requirements. A capacity tracker monitors weight when making batches or adding ingredients. With NTEP, Measurement Canada, NRCS and EC type approvals, models in the WBW range are suitable for trade use.
The rugged durability of the Warrior® washdown scale makes it a winning choice for batching or measuring large quantities in demanding food production and processing facilities. The Warrior offers capacities from 8-150kg and readabilities from 0.5-10g, with varying pan sizes. The Warrior is IP66 rated, offering protection against dust or water. The grade 304 stainless steel base can be quickly and thoroughly cleaned after processing tasks. Dynamic weighing capability allows the Warrior to accurately measure liquids, while checkweighing repetitive samples is simple with easy-to-read, color LED indicators.
A smart choice for catering operations or delicatessens and bakeries that sell food based on weight, the WBZ washdown retail scale simplifies price computing. Weight, price per unit and total cost are visible to both operator and customer on WBZ's dual display. With its streamlined design, the WBZ is easy to maintain and fits neatly on crowded counters. It carries an IP66 rating and features NTEP, Measurement Canada, NRCS and EC type approvals, making the WBZ suitable for trade use.
The LBK has a sleek profile and is ideal for measuring ingredients, weighing samples during food preparation, or portion control. Simple operation and a large, easy-to-clean stainless steel pan make the LBK an excellent choice for bakeries, hotel kitchens or pizza restaurants. The sealed keypad and ABS plastic housing allow speedy spill clean-up.
With several platform options, the durable CPWplus bench and floor scale meets the demands of rigorous commercial food applications when weighing ingredients for large batches. CPWplus is simple to operate and offers a stainless steel platform that is easy to clean. For greater accuracy in measurement of liquids, the hold function allows dynamic weighing. The CPWplus indicator can be positioned for viewing in any location.
Adam's Highland portable precision balance is well-suited for many food testing applications, including spot-checking and weighing samples to ensure correct amounts for quality control. To enable more precise food sample measurements, the Highland features Adam's unique patented HandiCal® internal calibration with a built-in mass, while ShockProtect® safeguards against accidental overload. Users can transmit data to computers, printers and data loggers with the RS-232 and USB interfaces.
The CB compact balance is fast and convenient, with a stainless steel pan to accommodate food items. Excellent for most culinary settings, CB quickly weighs small amounts. This allows spot-checking and other cooking or baking processes to move smoothly. The pan removes easily to allow clean-up of food spills.
Ranked as one of the top 200 trade shows in the United States, Natural Products Expo East showcases healthy products and is the largest natural, organic, and healthy products trade show on the East Coast.
About Adam Equipment
For more than 40 years, Adam Equipment has designed and manufactured precision balances and scales for professionals worldwide in the laboratory, medical, education, industrial, food, animal/veterinary and jewelry markets. Adam is committed to offering an extensive selection of weighing equipment with best-in-class value. Headquartered in the United Kingdom, the company has strategically established offices in the United States, South Africa, Australia and China to provide product support and speedy delivery to distributors. For more information about the company and its products, go to http://www.adamequipment.com.
Media Contact
Ruthanne Bell
Adam Equipment
E: r(dot)bell(at)adamequipment(dot)com
T: 203-790-4774