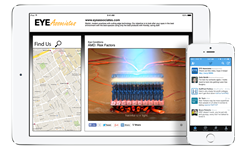 With more than 1 in 10 people using Twitter in the USA & UK and over 500 million Tweets per day, many people are using Twitter to find recommendations and advice. Optimed have developed CAPTIV8 Social – a social listening and content engagement service.
Coventry, United Kingdom (PRWEB UK) 14 August 2014
CAPTIV8 Social searches Tweets within a specified radius from a practice and filters them according to predefined search queries. So, if an Ophthalmologist wants to search for people interested in laser eye surgery, it can be done in a few clicks through CAPTIV8 Social.
Twitter is a broadcasting medium, so anyone writing a Tweet is publishing it in the public domain. The power of this type of search is that it identifies potential patients in need of eye-care services at a time when they need them most. It also addresses the issue of convenience, where the provider (the Ophthalmology or Optometry practice) is located nearby.
Identifying a target audience is one thing; the next step involves engaging and nurturing to a point where they're interested in the service provider. CAPTIV8 Social fulfills both these criteria.
A user can reply to Tweets by sharing a link to a resource of over 100 high quality, generic 3D ophthalmic animations. All animations are viewed on a personalized branded web page (built by Optimed as part of the CAPTIV8 Social product) displaying the practice's logo and contact details. At the end of the animation, the consumer is given the opportunity to request an appointment with the practice, thereby offering a way of converting a social media interaction into a real patient (watch the video here).
According to Development Director, Dr. Trusit Dave, "many practitioners know that social media offers opportunities for their business, but until now there's never been a clear understanding of how social media marketing can drive people into the practice. CAPTIV8 Social provides the means to find patients, engage with them and nurture them to a point where they book an appointment. Today's consumers don't want to be 'sold' products, they want advice, so they can make good decisions. CAPTIV8 Social positions Ophthalmology and Optometry practices as a source of knowledgeable advice and expertise using high quality patient education animations."
Costing £500/year (approx.USD $800/yr) for a practice, CAPTIV8 Social is a powerful marketing tool that costs less than a single newspaper advert. Available in 15 languages, CAPTIV8 Social is ideal for practices all over the World. Find out more by visiting Optimed's website or call +44 2476 444118. For articles on social media marketing visit the Optimed blog.