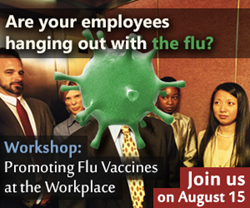 Learn how to develop a plan of action to raise awareness and educate employees on the benefits of getting a flu shot.
New York, NY (PRWEB) August 12, 2014
Mobile Health is hosting a workshop on Friday, August 15 that will provide attendees with all the tools necessary to increase their employees' vaccination rate and sustain their business's productivity during the flu season.
The workshop will be held at Mobile Health's administrative office conference room in Manhattan (229 West 36th Street, New York, NY 10018, 9th Floor) for breakfast (9-10 AM) and lunch (2-3 PM), with free food and extra giveaways at both sessions. Click here to register and learn how to develop a plan of action to raise awareness and educate employees on the benefits of getting a flu shot.
The workshop will cover suggestions for overcoming objections, best practices for coordinating an effective flu shot campaign, and more. Participants will leave with an understanding of the methods that are proven to boost employee vaccination rates and their bottom line.
This event is open to the public. Each attendee will receive a promotional kit for flu vaccination printed and emailed, as well as pre-printed posters from the CDC encouraging flu shot participation.
The return on investment of a flu shot program is easy to realize when the costs of employee health care and lost productivity are factored in. The annual cost to businesses resulting from the flu is estimated at over $87 billion. (CDC) Even employees who show up to work sick (a trend dubbed "presenteeism") are a significant burden on businesses, accounting for around 60% of worker illness costs. (Cornell)
Furthermore, a third of people surveyed said they attended work despite feeling sick, a trend that has been found to be especially common among nursing professionals, registered nurses and home health aides (Journal of Epidemiology & Community Health).
The substantial cost of illness to businesses makes it imperative to know how many employees are vaccinated. Join Mobile Health on August 15 and discover a practical approach to tracking this information in order to maintain a happy and healthy workplace.
Mobile Health is an employee screening and occupational health company designed to maintain a safe, healthy, and compliant workplace. Their 6 locations in New York City and in Long Island specialize in employment-related medical exams, drug testing, and job specific screening needs. For more information about Mobile Health, please visit http://www.mobilehealth.net/.