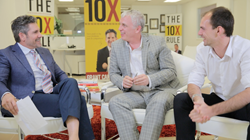 'I really like what ATManagement is doing to help businesses strive for more. We share similar views about accountability and the importance of training.' ~Grant Cardone
Miami Beach, Florida (PRWEB) August 13, 2014
Grant Cardone, international sales master, New York Times bestselling author and Founder and President of Cardone Training Technologies Inc., has partnered with Vladislav Musatov, Founder and CEO of Russia's ATManagement Group, one of the largest companies providing businesses with effective financial administration technology. The goal of the partnership is to provide businesses with web-based training tools to help them become solvent, efficient, and more profitable.
Both Musatov and Cardone agree that the desire for success and abundance appeals to people worldwide and that international partnerships make it possible to help more people and businesses reach maximum potential.
In the summer of 2012, Igor Barbolin, new projects developer and film producer for ATManagement, found Grant Cardone on YouTube. He and Vlad watched hours of Grant's video content leading them to Cardone's bestselling business books. Musatov and Barbolin were immediately impressed. They agreed Grant Cardone's effective training tools and stance on "making success one's duty, obligation, and responsibility," was what ATManagement needed to reach even more businesses and professionals. They reached out to Grant Cardone to propose a partnership that would include translation of his bestselling books and popular video content. After 2 years and many conversations, a great partnership has been formed.
"Grant Cardone shares our purpose," explained Vlad Musatov. "We both want to help businesses and entrepreneurs to become as successful as possible. This hunger for greatness and abundance is shared all over the world. It doesn't matter that we are Russian and Grant is American. Grant Cardone's message and training methods are more appropriate in today's global economy in that they are effective, aggressive, and proven to deliver results. This partnership allows ATManagement to help even more businesses and become even more influential in the Russian market."
ATManagement's information portal, "Reality Business," will feature both Cardone University and Cardone On Demand. two cloud-based sales training platforms that make sales training easy, convenient and accessible 24/7. These sales training tools contain over 1200 hours of video content specifically designed to positively impact the way people promote and sell others on the viability of their businesses and the products or services they provide. Virtual seminars and live seminars are also part of the partnership. In addition, Cardone's Award-Winning business books "Sell Or Be Sold" and "Closer's Survival Guide" will be translated into Russian.
"I recently interviewed Mr. Musatov for my upcoming web series, 'Power Players' launching this fall where Vlad, Igor and I discussed the similarity between business in Russia and America and how this partnership came to be. It took two years of collaboration to create a tool that would truly speak to the needs of the Russian market. I really like what ATManagement is doing to help businesses strive for more. We share similar views about accountability and the importance of training. People who have the will to learn, who work hard and make success their duty are people I want to engage with and help. I'm grateful for the opportunity to partner with ATManagement and their Reality Business portal," shared Grant Cardone.
Expansion to Russia follows recent book translations in French and Spanish. In addition to these languages Grant Cardone's bestselling business books, have been translated into French, Spanish, Russian, Thai, German, Spanish, Chinese, and Portuguese.
Links and information:
About Vladislav Musatov: President of ATManagement Group, LLC Leading licensed consultant and trainer. More than 7,000 people have attended his seminars. Presently, Vlad manages the company's international projects and carries out strategic planning mainly as ATManagement Group's president. Vlad also conducts free seminars for students to support young entrepreneurs and supports many international social projects. In 2012 the company opened up the ATManagement USA franchise in the state of Florida.
Reality Business is an information portal owned by ATManagement that features videos, books, articles and software designed to help businesses create an environment that delivers high productivity to increase revenue. http://www.rb.tv/en
ATManagement http://www.admintech.ru provides tools to help business owners control the finances and manage companies remotely to increase the efficiency of an organization.
About Grant Cardone: Grant Cardone is a self-made, highly successful entrepreneur with multiple businesses. Cardone Training Technologies and Cardone Group, his training arms founded on Cardone's trademarked Information Assisted Selling (TM) technology, offer a sales training facility and two web-based sales training platforms, Cardone on Demand and Cardone University. Cardone Real Estate Acquisitions focuses on multi-family real estate investing, with a portfolio valued at an estimated $350 million dollars. Follow Grant for free sales tips and strategies, or visit http://www.grantcardone.com.
Cardone On-Demand and Cardone Sales University were introduced in 2010 and have become industry leaders for web-based sales training. These are comprehensive sales training and sales management courses provided online with over 1100 segments of content broken into exact modules and curriculums. Cardone's online sales training universities provide sales meetings, testing, reporting, and sales solutions for every selling situation imaginable. At the start of 2013, sales organizations have viewed and tested on over 10 million videos.
For more information please visit http://www.grantcardone.com or contact:
Lisa Giassa, PR Director
310-777-0255, lisa(at)grantcardone(dot)com